It's not always easy to find that perfect gift for the animal lover in your life. We've compiled the ultimate Potter Park Zoo gift guide with tons of options that range from plush toys to a behind the scenes experience with the big cats at the zoo!
Gifts That Keep on Giving
Potter Park Zoo Membership
Can you really give the gift of a full year of wild adventures? All it takes is a PPZ membership!
Members receive free standard admission, discounts at our gift shop, concessions, birthday parties and much more. Best of all, you are making a lasting impact on wildlife conservation – for now and for years to come!
You also receive discounted admission from other Participating AZA accredited zoos (like Detroit Zoo, Binder Park Zoo, Saginaw Childrens Zoo, and John Ball Zoo!)
Click to Learn more about Memberships
Animal Experience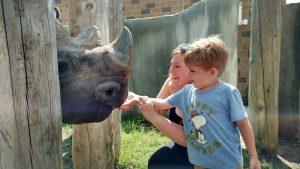 Go behind the scenes of a favorite animal exhibit and meet them up close and personal.  Learn about their home, daily activities and what it takes to keep each one healthy and happy.
Click to Learn more about Animal Experiences 
Zookeeper Encounter
For $175, give your animal lover the gift of a lifetime and the opportunity to follow a keeper behind the scenes Zookeeper Encounter at Potter Park Zoo!
Choose from Herps, Rhino, Moose, Big Cat, Otter & Fox, and Penguins and get up close and personal with these animals and their care taker.
Click to learn more about Zookeeper Encounters
Zookambi Summer Camp Gift Certificate

Are you looking to give an exciting educational experience rather than more stuff?  Consider giving the gift of Zookambi!
Zookambi summer camp at Potter Park Zoo is a wild adventure like no other. Campers will be able to see animals up close, take special guided tours of the zoo, and make lifelong memories, all in a fun and engaging learning environment.
Learn more about Zookambi Summer Camp Gift Certificates
Adopt a Potter Park Zoo Animal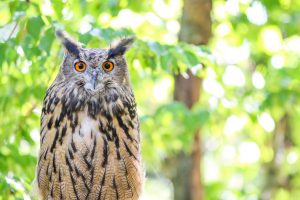 Do you have a favorite furry, feathered or scaly friend at the zoo? Adopt it! You can make a very special donation to the zoo by adopting one of our animals for yourself or as a gift to a friend or loved one.
Learn more about "Adopting" an Animal at PPZ
Contribute  to Conservation
Items now available in the AniMall at PPZ!
COOL Crafts purchases and markets crafts from Kenyan craftsmen and women who offer a diverse array of uniquely Kenyan crafts. The COOL team works closely with the artists to ensure that quality crafts are made from locally available, renewable and recycled products. Profits benefit conservation research, community development and education initiatives.

Support the Snow Leopard Trust
 Items now available in the AniMall at PPZ!
The Snow Leopard Trust aims to better understand the endangered snow leopard, and to protect the cat in partnership with the communities that share its habitat. With each purchase, you directly contribute to the conservation of the endangered snow leopard.
Don't Miss Items in the AniMall Gift Shop
"ZooCandles" and air fresheners in a variety of scents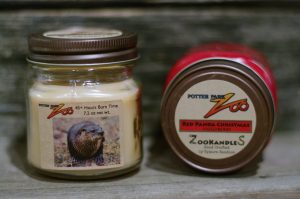 Cheetah soccer ball
The wildest plush toys around!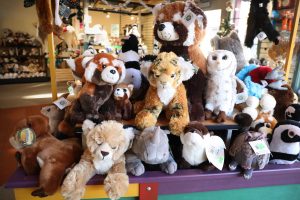 AniMall Hours:
12 – 4 p.m. Monday through Friday 
10 a.m. – 4 p.m. Saturday and Sunday
During Wonderland of Lights:  Thursday & Friday  12-8 p.m.,  Saturday & Sunday 10-8p.m.
Help us to Inspire Conservation of Animals and the Natural World
Consider making a tax-deductible donation to the zoo and help us in our mission to inspire conservation of animals and the natural world. 
Click here to easily give online.