Potter Park Zoo is your ticket to get closer than you've ever been to more than 160 species of animals.  Below is just a sampling.  Check out the map to see everything we have to offer!
*Some exhibit availability is weather dependent and will close when temperatures are extreme or during storms.
Note: Due to a rise in COVID transmission rates, Ingham County has required that all zoo visitors wear masks inside buildings, including the Discovery Center, the Bird and Reptile House, the Feline/Primate building, the AniMall gift shop, and restrooms. Disposable masks will be available for purchase at the zoo gate.
---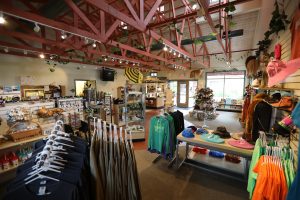 AniMall Gift Shop
10 a.m. – 4 p.m. Weekdays & Weekends
Located near the entrance of the zoo the AniMall gift shop offers something for everyone. Pick up your snacks and beverages before setting out into the zoo for the day and then return to pick up that special souvenir after your day in the zoo. Full of favorites like plush animals, toys, apparel, jewelry, gifts, home accents, and featuring eco-friendly items from a variety of vendors that provide conservation education and create jobs to local artisans from all over Africa and the world! 
Food & Drink
Savanna Grill
Open on Saturdays and Sundays (Nov. 1 – Dec. 19)
10:30 a.m. – 4 p.m. Weekends Only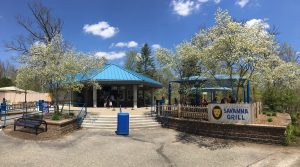 *May close early in inclement weather. Please note that the grill closes 30 minutes before the restaurant. Certain freshly grilled items may not be available at this time. 
As you make your way through the zoo plan a stop on the grill patio to enjoy your meal or a snack.  The shaded seating area looks out over the zoo where a number of our animals can be seen while you enjoy a meal.  You can find your choice of cheeseburgers, fresh salads, chicken tenders, ice cream, popcorn, refreshing beverages, and more.
Camel Rides
Closed for the Season
One of the zoo's most popular activities, the camel rides, are back at Potter Park Zoo! Camel rides are an extraordinary experience with this one of a kind animal. Zoo guests are invited to meet the camels – Molly, Maple and Joy – at the camel ride area. Riders 2 and older are welcome. Ages 2 through 4 must have a paying adult rider with them. 
$7 per rider
$7 for a souvenir photo
Wings of Wonder – $1 per seed stick or $5 for 6
Closed for the Season
"Wings of Wonder" features parakeets and cockatiels in free flight! Our birds aren't shy when it comes to interacting and for just $1 (cash only), you can buy a seed stick to feed them yourself!*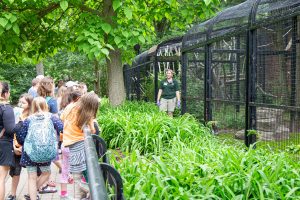 Keeper Talks
Check back in 2022
Check the "plan your day" board at the entrance of the zoo for today's keeper talks!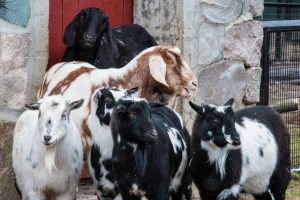 Farmyard EdVentures
Closed for the Season
A family favorite! At Farmyard EdVentures you'll find adorable pygmy goats, cattle, burros, chickens and pigs. Take a break from your walk around the zoo and enjoy these fun farmyard animals!
Bird & Reptile House
Open Daily
The Bird & Reptile House includes dozens of animals. Rare and endangered species such as the cotton-topped tamarin, a Madagascar hognose snake, Puerto Rican crested toad and many others can also be seen up close.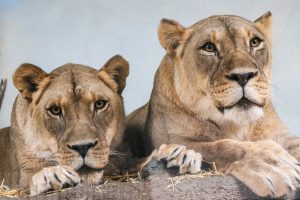 Feline & Primate House
Open Daily
Animals can be viewed in their outdoor habitats weather permitting.