Cancelled until further notice. Please check back at a later date for updates.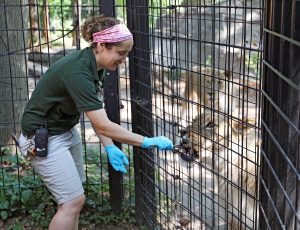 Have you ever dreamed of being a zookeeper? Now is your chance to work alongside a zookeeper at Potter Park Zoo and learn what it takes to care for the animals every day. If you love animals big or small, scaly or furry, then we have an encounter for you.
Encounter times are limited; please give a minimum of 2 weeks' notice for scheduling.
Not all encounters are fully accessible. Please contact Sarah Foote at (517) 342-2703 or sfoote@ingham.org if accommodations are necessary.
Once you have registered for your encounter you will be provided a detailed informational packet.
All participants, including adult chaperones, are required to complete a signed liability waiver. Payment and completed waivers are required at time of registration.
The cost of a zookeeper encounter includes zoo admission.
Zookeeper Encounters