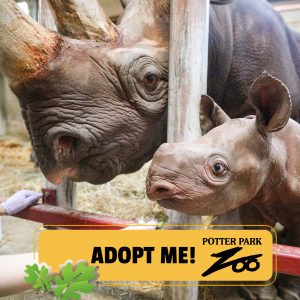 Do you have a favorite furry, feathered, or scaly friend at the zoo? "Adopt" it! Anyone can adopt an animal – individuals, families, school groups, or businesses. This symbolic adoption is a great gift for animal lovers, aspiring veterinarians and zookeepers, friends, teachers, even yourself!
By participating in our Adopt an Animal program, you are making a special donation that supports the zoo and its mission of inspiring conservation of animals and the natural world.
We appreciate your patience! Please allow 14 days (maximum) for the zoo team to process your adoption request.
Additional shipping charges will apply outside of the continental United States. Please contact the development department at (517) 244-8042 or eorourke@ingham.org for more information.
ECO-ADOPT

LEVEL 1

LEVEL 2

LEVEL 3

LEVEL 4

$25 (all via email) 

Adoption Certificate

Animal Fact Sheet

Animal Photo

Great For Class/Group Adopts!

$50

Adoption Certificate

Animal Fact Sheet

Animal Photo

Name Posted on zoo Kiosk

$100

Adoption Certificate

Animal Fact Sheet

Animal Photo

Name Posted on zoo Kiosk

Family 4 pack of tickets to Wonderland of Lights

$250

Adoption Certificate

Animal Fact Sheet

Animal Photo

Name Posted on zoo Kiosk

Family 4 pack of tickets to Wonderland of Lights

*Plush animal of your Adopted Animal

Private chat with a zoo professional about your animal

$25 off an Animal Meet & Greet

$500

Adoption Certificate

Animal Fact Sheet

Animal Photo

Name Posted on zoo Kiosk

Family 4 pack of tickets to Wonderland of Lights

*Plush animal of your Adopted Animal

**Choice between a Big Cat, Otter, or Penguin Meet & Greet OR an Enrichment Experience for two with an animal and its zookeeper
*While supplies last. If your animal plush is not available, an alternative plush choice will be offered (Choose one of three options:  Red Panda, Lion, Wolf)
**Not all animals are available for Meet & Greets. If your adopted animal is unable for a Meet & Greet, an alternate animal will be offered. Please note Rhino Meet & Greets/ Enrichment Experiences are not included in any Level 4 (ADOPT) package