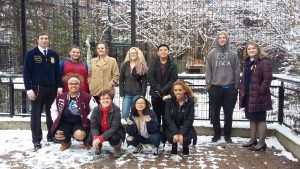 Potter Park Zoo is fortunate to be one of a very small number of zoos in the US that host an on-site high school class for the entire school year! Potter Park Zoo has teamed up with the Eaton Regional Education Service Agency Career Preparation Center to host two sections of Animal Science and Zoo Management every year. Each class is here for two hours a day and learns through a blend of lectures, projects, guest speakers, field trips, and hands-on experiences around the zoo.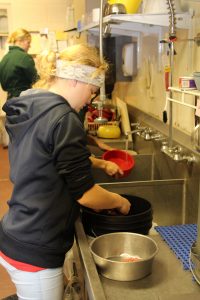 The classes contain juniors and seniors from about 12 different high schools every year. The majority of the students come from Eaton County schools, but we also have students from Clinton, Barry, Ingham, and Shiawassee counties*.
The students' curriculum is focused on Animal Health and Veterinary Science, so there is a lot of information about anatomy and physiology, what goes into running a vet clinic, and learning practical veterinary techniques. We also cover a wide range of zoo-related topics including zoo history, animal husbandry and welfare, training and conservation.
Know a student going into 11th or 12th grade who might be interested? Have them talk to their school's guidance counselor to see if this program might be an option for them! More information about the class can be found at eatonresa.org on the career preparation page.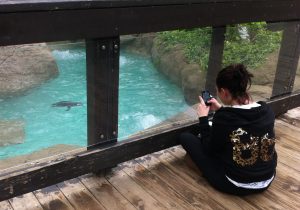 *Students outside of Eaton County do need to be able to provide their own transportation to and from the zoo, since the majority of schools outside of Eaton County do not provide buses to our location.
For more information, head to the Eaton RESA website or talk to your school's guidance counselor!