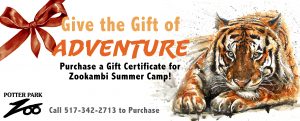 Are you looking for a great gift for the young animal lover in your life?  Would you rather give an exciting educational experience rather than more stuff?  Consider giving the gift of Zookambi!
Zookambi summer camp at Potter Park Zoo is a wild adventure like no other!  Campers will be able to see animals up close, take special guided tours of the zoo, and make lifelong memories, all in a fun and engaging learning environment.  Each session is led by a professional teacher and an adult assistant, with additional help from teen volunteers.
Weeklong (Monday through Friday) sessions run throughout the summer and we offer different sessions in the morning and afternoon.  Campers can sign-up for just the morning, just the afternoon, or sign-up for both for a full day experience.  Gift certificates will allow your recipient to register for any age appropriate Zookambi class offered during the summer of 2019, so you don't need to schedule or select camps right now.
Zookambi gifts include a personalized certificate, a letter explaining the gift with instructions on how to register, endangered species trading cards and a listing of last summer's classes to illustrate the kinds of experiences they can expect.
Gift certificates may be ordered by calling the Education Department at 517-342-2713, or by emailing the Assistant Education Curator at jhorvatin@ingham.org.  Certificates ordered by 12:00 noon on December 18 can be mailed to the giver or the recipient, or picked up at the zoo.  Certificates ordered by 12:00 noon on December 21 can be picked up at the zoo until 4:00 PM on December 24.
Gift certificates are available for 1 week of half-day or full-day experiences.  The cost for a week of half-day Zookambi is $80 for members or $95 for non-members.  The cost for a week of full day Zookambi is $160 for members or $190 for non-members.  Early drop-off and/or late pick-up can be added for a small additional fee.
*Zookambi Summer camp prices will likely increase in 2019. Lock in current prices with a gift certificate!* 
For more information or to place an order, please call the Education Department at 517-342-2713.
Happy Holidays!​