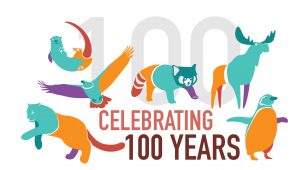 You're Invited!
Join us for the 100 Year Centennial Celebration Party!
May 30 & 31, 2020  9a.m. – 5 p.m.
---
Centennial Celebration Weekends
We're celebrating Potter Park Zoo's Centennial every weekend this summer by giving our guests an inside look into the zoo.
• Themed talks and activities each day
• Self-guided historical walking tour
• Over 500 animal residents to learn about
May 23 & 24: 100 Years of History
100 years of history! Join us for the debut weekend of our historical self-guided walking tour of the zoo that journeys through 100 years of Potter Park Zoo history. Over 20 new signs have been added to the zoo for our guests to get an in depth glimpse of the years past.
May 30 & 31: Centennial Celebration featuring Zoo Vets
You're invited – join us for the 100-year Centennial Celebration!
Potter Park Zoo has been Lansing's Capital City zoo for 100 years and we have a lot to celebrate. Join us for two days of fun!
June 6 & 7: For the Birds!
Join us Saturday for World Migratory Bird Day, which is celebrated in conjunction with the Greater Lansing Convention and Visitors Bureau's "Be A Tourist In Your Own Town." Admission is free with a "Be A Tourist" passport available at the zoo and many other locations in the Lansing area! Join us Sunday for special bird zookeeper talks.
June 13 & 14: Nature Connection
Did you know the zoo has a new area entirely dedicated to connecting you with nature? Come see the new "Nature Play" area at Potter Park Zoo and connect with nature!
June 20 & 21: Exceptional Animal Care
What is animal welfare? What do zoos do to make sure animals in their care have the best welfare possible? A lot has changed in 100 years, and we're here to answer your questions!
June 27 & 28: At Home at the Zoo
How do you create an animal's home at the zoo? Exhibit design in modern zoos is fueled by research and living spaces are designed to include elements from each animal's natural habitat.
July 4 & 5: Amazing Animal Training
This is a weekend you don't want to miss! Here at Potter Park Zoo, we work with our animals using positive reinforcement to train behaviors that allow us to provide excellent welfare and veterinary care. Watch as our zookeepers hold training sessions with a variety of animals throughout the zoo.
July 11 & 12: Puzzles and Piñatas
What is enrichment? Join us Saturday for our annual Chillin' with the Animals Enrichment Event and watch what animals do when they receive a variety of cold and frozen enrichment items. Stop by Sunday to try your hand at creating enrichment for a Potter Park Zoo animal!
July 18 & 19: Conservation Champions
Potter Park Zoo is making a difference, and so can you! Come learn about what we're doing to help endangered animals in the wild. We'll also show you what you can do from your home to make a difference around the world and to animals in your own backyard.
July 25 & 26: So You Want to be a Zookeeper?
What do zookeepers do? You might think it's simply caring for an animal, but this job is much more complex! Our zookeepers are experts in animal husbandry, , operant conditioning training, diet preparation, research and more. Come talk to our amazing zookeepers and hear what they have to say about this extraordinary job!
August 1 & 2: Telling Our Story
Potter Park Zoo is making huge strides in sharing the stories of the animals in our care. We've expanded our communications and bring our viewers into behind the scenes areas to see training sessions, veterinary procedures and more with photos and video.
Come talk to the zoo's communications manager and professional photographer/videographer and see what it's like to tell the stories of Potter Park Zoo's animals.
Join her for a one hour guided photo tour through the zoo at 9 a.m. (sharp!) each day. Meet her with your camera gear at the entrance plaza. Don't miss the talk at 1 p.m. each day at the Centennial Square where she will be answering your questions and sharing the zoo's strategy for transparent story telling.
August 8 & 9: What's For Lunch?
Animal nutrition is much more advanced than it was 100 years ago. Today, zoos feed each species a scientifically formulated diet to meet all their nutritional needs. Our zookeepers will share how we prepare diets, feed the animals, offer variety and more! Curious to know what Doppsee the rhino's favorite treat is? Join us this weekend to find out!
August 15 & 16: Match.com for Animals
Many species at Potter Park Zoo are part of a Species Survival Plan (SSP). These plans are created by zoo staff throughout the United States and the goal is to develop and maintain healthy populations of species within AZA accredited zoos. The SSP plays a huge role in where animals go – if they stay at the zoo they were born, or if they travel to a new zoo for breeding. Without SSP's, it would be difficult to make intelligent decisions to maintain a genetically diverse zoo population.
 August 22 & 23: Zoo "Ed"-ventures!
Potter Park Zoo is a zoo for all! We welcome every one in the community to come out and get a taste of the variety of education programs we have here at the zoo. This will be a weekend filled with fun activities for the family, showcasing our award-winning education programs.
August 29 & 30: Into the Future!
100 years old, what's next for Potter Park Zoo? Come learn about the future plans for the zoo and find out how you can be a part of a new era for Potter Park Zoo!