FALCONERS
FALCONERS is designed to allow children or adults of all ages  with special needs and unique challenges (such as autism or developmental disabilities) and their whole family to have an enriching educational experience in a safe and welcoming environment. There will be one event per month throughout 2018.
Safe and welcoming environment with sensory friendly activities
Inclusive for the entire family/support group
Up close experiences with ambassador animals
Each session includes hands-on stewardship activity
This program will be shared with other institutions in the community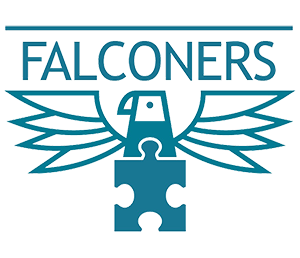 ---
Scheduled Events
FALCONERS "Boo at the Zoo"
October 19: 5:00 PM – 7:30 PM 
For our October activity, we will be hosting a very special evening of Boo at the Zoo, our annual family friendly Halloween event!  It will take place Friday October 19 from 5:00-7:30 PM. The zoo will be closed to the public at this time, so you can enjoy many aspects of the public event but without the crowds. Participants are welcome to come in costume if they wish.  We will have games, cider and donuts, animal encounters, crafts, and more!
Participants are asked to pre-register to get free admission to the zoo and access to the activities.
To register for the Friday October 19 event, please click here.
FALCONERS "Getting Ready for Winter"
Saturday November 17: 10:00 AM – 1:00 PM 
Join us as we help the zoo prepare  for winter!  We will have a couple of stewardship projects for participants, including making special ornaments and decorating trees that will be on display throughout the holiday season.  We'll also have hands-on activity stations so we can learn about how animals get ready for winter.  Most activities will take place outside, so please dress for the weather.  Hot chocolate, coffee and snacks will be provided.
Participants must pre-register to get free admission to the zoo and access to the activities.  Please note that the concession stands and the gift shop will be closed.
Registration Coming Soon!
FALCONERS "Wonderland of Lights"
December 11: 5:00 PM – 8:00 PM 
Potter Park Zoo is pleased to present a special, sensory-friendly Wonderland of Lights experience just for FALCONERS!  Thousands of lights will create extraordinary animal exhibits and holiday displays.  There will be cookies, crafts, and animal encounters to enjoy.  We will also provide a light dinner and hot chocolate for all participants.
While there is no charge for the event. participants are asked to pre-register so we can plan accordingly.
To register for the Tuesday December 11 event, please click here.