FALCONERS
FALCONERS is designed to allow children or adults of all ages with special needs and unique challenges (such as autism or developmental disabilities) and their whole family to have an enriching educational experience in a safe, welcoming and sensory friendly environment. There will be one sensory friendly event in Lansing, Michigan per month throughout 2019.
Inclusive for the entire family/support group
Up close experiences with ambassador animals
Each session includes hands-on stewardship activity
This program will be shared with other institutions in the community
Potter Park Zoo is Certified Sensory Inclusive, for more information please click here: https://potterparkzoo.org/potter-park-zoo-becomes-first-aza-accredited-zoo-in-michigan-to-become-a-certified-sensory-inclusive-zoo/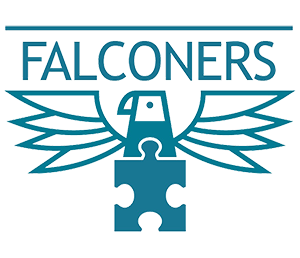 ---
Scheduled Events
FALCONERS January 18, 2020
Please read all of the information below carefully before registering since we have limited space.
We are kicking off 2020 with a new and exciting experience for our January FALCONERS event! We are holding two special dinners just for our FALCONERS families. Our hope is that families can have the restaurant-like experience, but here at the zoo. There will be two dinner times families can choose from. We are limiting the number of people to 100 for each sitting so that we are not overcrowded. The first dinner will be held from 3:00 PM – 5:00 PM and the second from 6:00 PM – 8:00 PM. As usual, this event is free to attend.  However, because capacity is limited please consider the following before signing up:
·         Due to limited seating, only immediate family or caregivers please. We want as many families or individuals as possible to be able to enjoy these dinners. With only 100 spots in each dinner, we are limited. If you are from an organization, please contact Mariah Martinez (falconers@ingham.org) before registering.
·         Your family may only sign up for one dinner time. If we see that there is a sign up for each we will contact you.
·         Please be prompt, as the dinners will start no later than 15 minutes after the start time. The first dinner will have to end right at 5:00 PM to allow for cleanup and resetting for the second Likewise, the second dinner will need to end at 8:00 PM in order to clean up for the night.
·         Please only sign up if you can come. This event is very special! Once you are registered, if you have to cancel or cannot make it, please let us know as soon as possible. We will have a wait list available for those that sign up after we have reached 100 people per dinner. If you cannot complete your registration that most likely means we reached 100 people. Please email Mariah (falconers@ingham.org) to be put on a waitlist.
·         We will have family style seating.  You will be seated with your family, but your table will be assigned and most likely shared with other guests so we can utilize all of the space in the room.
·         We will be providing different food options but our main food items will be: Chicken breast (lightly seasoned and gluten free), chicken tenders, seasoned vegetables, chili, corn, bread rolls and salad. Please consider this when signing your family up for the event.
·         If anyone in your family has special dietary needs you may bring in outside food –as long as it does not need to be heated up. If you have questions about this, please contact Mariah.
·         As the event gets closer, we will continue to update those registered. Unlike a typical FALCONERS event, if you are not registered for the event you will not be able to attend.  We usually are very flexible with these events, but if you are not registered and confirmed we will not have enough food or space to accommodate you.
·         Tables will be wheelchair friendly. When registering, please let us know ahead of time if you or someone in your family uses a wheelchair, walker or other mobility device. Also, please let us know of any allergies.
Our goal is to have the dinner setting as accommodating, flexible and welcoming as possible. We will have an activity room available for those that like to get up and move around. Once you and your family members begin your meal, you can get up, check out the activity rooms for a bit and then come back to enjoy the rest of your meal. We will also be providing a photo wall so that families can take photos together! Please feel free to dress however is most comfortable for your family.  Enjoy this night as if you were going to any restaurant for dinner!
Click here to register for the January 18, 2020 3:00-5:00 PM Seating *Registration Closed please email Mariah if interested falconers@ingham.org*
Click here to register for the January 18, 2020 6:00-8:00 PM Seating *Registration extended until 1/17/2020 at 11;55 PM*
Thank you to our food sponsors: Outback Steakhouse,  Texas Roadhouse and Meijer.