Now, more than ever, we're appreciative of your support of the Potter Park Zoological Society! By purchasing a membership now, you're providing essential funding for the society during this difficult time. 
Your membership will be processed as soon as the zoo opens and zoo staff can complete your order. Once your membership is processed, you'll enjoy free admission to the zoo for an entire year, invites to special members only events, AND 50 to 100% off admission to over a hundred of other AZA-accredited zoos and aquariums across the country. Thank you so much for your support! 
We are in this together!
⁠As one way of doing our part, we are extending all current and any purchased (during closure) Potter Park Zoo membership expiration dates to compensate for the length of time the zoo is temporarily closed. ⁠Thank you for your continued support through this time! ⁠
Save money. Have fun. Support the zoo!
Are you ready for a full year of wild adventures? Become a Potter Park Zoo member! Members receive free standard admission, discounts at our gift shop, concessions and much more. Best of all, you are making a lasting impact on wildlife conservation – for now and for years to come!
Individual
One named adult (one card)
One Adult Family
One named adult + children in household and/or grandchildren under 18 (one card)
Two Adult Family
Two named adults + children in household and/or grandchildren under 18 (two cards)
Basic Level Benefits
Unlimited standard admission* to the zoo for one year
Free or discounted admission to over 100 AZA accredited zoos and aquariums nationwide**
10% Discount at the AniMall Gift Shop and Concessions throughout the zoo
Discounts on Sundown Safari Family Camping and Zookambi Summer Camp
E-mail newsletter, announcing exciting happenings throughout the year!
Membership renewal discount if you renew online***
Special "Members Only Party" at the zoo
Discounted admissions to Wine & Stein
Plus Additional member-only opportunities announces as they become available
*Standard admission refers to daily hours of operation on non-event days
**This discount is typically 50 percent 
***$5 off Basic; $10 off Deluxe; $15 off Premium 
Deluxe Level Benefits
All Basic member benefits PLUS
Free parking for one vehicle per visit at Potter Park Zoo
Free admission to Boo at the Zoo and Wonderland of Lights events
Premium Level Benefits
All Basic and Deluxe member benefits PLUS
6 One-Time-Use Guest Passes
15% Discount (instead of 10 %) at the AniMall Gift Shop and Concessions
Two e-tickets to Spring Wine and Stein
One Guided Tour for 4 people offered in April, June, August and September
 PREMIUM MEMBER GUEST PASSES CANNOT BE USED AT WONDERLAND OF LIGHTS OR BOO AT THE ZOO
---
Add on to any Membership
Unnamed Adult :  $15 each (up to 2 per membership)
"Unnamed Adult" card will be issued.
To add an UNNAMED GUEST CARD to an existing membership, please either call 517-342-2717 or visit the zoo's Welcome Center.
NEW perk for all Potter Park Zoo Members!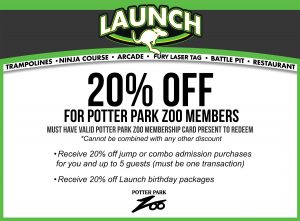 Visit https://launchtrampolinepark.com/lansing/ to learn more!