For in the end, we will conserve only what we love. We will love only what we understand. We will understand only what we are taught." -Baba Dioum
Survival for many animals and plants around the world is becoming increasingly difficult. Potter Park Zoo is dedicated to doing all we can to help preserve these amazing creatures, and to help educate for the future. That's why we participate with multiple organizations in conservation efforts regionally and globally to help maintain and protect the amazing biodiversity we all enjoy today.
National Zoo
Potter Park Zoo collaborated with the National Zoo as part of a hormone study in Black Rhinos for evaluating cutaneous ulceration syndrome. Our black rhinos were trained for blood collection during the study.
Rhinoceros Signature Project – CREW
Potter Park Zoo is committed to black rhino conservation and scientific advancement. We have been involved in several projects spearheaded by CREW including hormone response to olfactory stimulation and ongoing fecal hormone testing.
World Rhino Day
To celebrate World Rhino Day, Potter Park Zoo offers special tours and a behind the scenes look at our black rhino exhibit. Educational displays are placed along walkways to teach attendees about the plight of rhinos in the wild and to provide them with things they can do daily to more positively impact rhinos. Funds are raised for the International Rhino Foundation – a conservation organization that strives to conserve rhinos in Africa and Asia http://rhinos.org/
Eastern Massasauga Rattlesnake Research
From 2004 to 2007, Potter Park Zoo in partnership with the Michigan Department of Natural Resources, researched habitat selection and movement patterns of the Massasauga Rattlesnake in Southwest Michigan. Potter Park Zoo presented a research document in 2005 at the Midwest Fish
and Wildlife Conference.  Several members of the animal care team participate in field surveys and Species Survival Plan meetings.
The Zoo Conservation Outreach Group (ZCOG)
ZCOG is an alliance of North American zoological institutions, corporate partners, and individuals dedicated to assisting Latin American zoos and aquariums in their regional wildlife and habitat conservation efforts. They provide technical, material, and financial assistance to zoological institutions throughout Latin America.
American Pine Marten Field Research
Potter Park Zoo collaborates with researchers from Grand Valley State University and Busch Gardens to gather data on individual animals. Potter Park Zoo staff assist in tracking, checking live traps, and documenting data.
Puerto Rican Crested Toad SSP Breeding and Release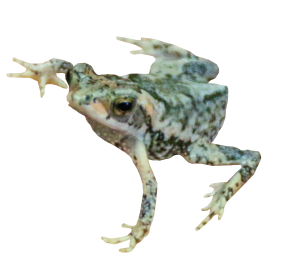 Potter Park Zoo has participated in this program since 2009 and has successfully transported nearly 16,000 tadpoles to release sites in Puerto Rico. The Puerto Rican crested toad is the only native toad on the island and was thought to be extinct until a handful of toads were discovered in the mid-1900's. Learn more at: http://crestedtoadssp.org/
Peregrine Falcon Banding
Potter Park Zoo veterinary staff coordinates with local nest watchers to examine and band fledging peregrine falcon chicks. While they have been delisted federally, Peregrine falcons continue to be listed as endangered under Michigan law.
FrogWatch USA
FrogWatch USA is a citizen science program aimed at training individuals, groups and families to learn about wetlands in their community by listening for and identify native frog and toad species. This information is then entered into an online database for use by researchers and scientists. Potter Park Zoo animal care staff hold several training sessions in the early spring and are always looking for new enthusiastic volunteers. Learn more at: https://www.aza.org/frogwatch
International Migratory Bird Day (IMBD)
For more than two decades, Potter Park Zoo has hosted a major celebration of IMBD. The zoo partners with the US Fish & Wildlife Service, Michigan Department of Natural Resources, Fenner Nature Center, and the Great Lansing Convention and Visitors Bureau. At the event the zoo is filled with hands-on interactive games and activities, chicks hatching in incubators and animal presentations all centered on the importance and conservation of neo-tropical migrant birds. Most activities are designed to encourage, inspire, and assist visitors with actions they can take to help conserve migratory birds.
Projeto Tamandua Brasil
(Project Anteater Brazil) Potter Park Zoo veterinarian, Dr Sally Nofs, is a researchassociate with this organization and participates in Giant Anteater immobilizations and sample collection while in the Pantanal.
International Red Panda Day
International Red Panda Day is an annual celebration at Potter Park Zoo. There are many activities for children of all ages, including red panda chats, scavenger hunts, red panda mask making, as well as enrichment and training demonstrations. During the event we raise funds to send to the Red Panda Network – a conservation organization dedicated to saving red panda in their native range. https://redpandanetwork.org/
Party for the Planet
An annual event held at the zoo that is aligned with the AZA's nation-wide Party for the Planet. This event features a wide range of informational stations; hands-on, interactive activities; animal presentations and social media posts. The focus is on conservation issues, conservation successes, the roles of zoos & aquariums in conservation, and conservation-positive actions everyone can take to make a difference.
Arbor Day Celebration
An annual event focusing on the ecological, economical, and aesthetic values of forests. Potter Park Zoo partners with numerous national, state, county, and city natural resource agencies, Forestry NGOs, Michigan State University, private forest industry companies and dozens of area school districts.
American Association of Zoo Keepers (AAZK)
The Potter Park Zoo AAZK chapter raises funds yearly to support a variety of conservation projects. To date they have given money to: The Stewardship Network, Ruaha Carnivore Projects, International Rhino Foundation, and Red Panda Network. Additionally, the chapter holds a Bowling for Rhinos event every August, the proceeds of which support rhino conservation in Africa and Asia. http://www.aazkbfr.org/