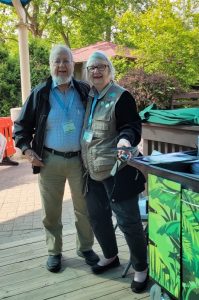 Meet Marge and Jack. Marge and Jack have been volunteering at Potter Park Zoo for almost 20 years and are long-time donors. Their passion for animals, nature, and people has allowed them to embark on many new adventures and experiences together over the years, both here at the zoo and around the world. Their dedication to both conservation and community has been awe-inspiring and we want to share their story.
What inspired you to volunteer at the zoo?
Growing up in Brookfield, IL, Marge would ride her bike to the local zoo with her friends to visit the animals. She was amazed at how modern and open the exhibits were and could tell the animals received the very best care. Her early visits to the zoo sparked in her a life-long passion for animals. When she retired, she decided to combine her love of animals and her love of teaching by joining the Volunteer Team at Potter Park Zoo, where she could share her passion and knowledge with others. Jack, also an avid conservationist, decided to join her, and they've become an indispensable part of our zoo family.
What does volunteering mean to you?
"Volunteering is a way we can support and give back to the community. We can interact with families and students that visit the zoo and educate them on the importance of caring for the environment around us and how actions have consequences, big and small."
-Marge
What inspires you to give?
Giving locally has always been at the forefront of Marge and Jack's philanthropic goals. They know where their support is going and can see the impact firsthand. For the last several years, they have been supporting the BIG Zoo Lesson program for local elementary classes. Marge and Jack wanted to help provide opportunities for the students in our community and the BIG Zoo Lesson program allows them to do just that. In their roles as volunteers, they also get to engage with these students in person and see their excitement as they become scientists and animal experts during their week at the zoo. For Marge and Jack, this is a source of happiness, hope, and a promise for a better, brighter future.
What does Potter Park Zoo mean to you?
"Potter Park Zoo is a place where we brought our children and now our grandchildren. We have so many memories together from our visits to the zoo." This sentiment from Marge and Jack, and so many of you, brings us more joy than we can express. We are proud to be a place where families come together to create lifelong memories and continue traditions and we are beyond grateful for the support and commitment of our zoo visitors, donors, and volunteers.
What inspires you to give? Just like Marge and Jack, your support makes a vital difference here at the zoo and in the community. Please continue to support your growing zoo and the animals entrusted to us by donating today. Contributions can be made by mail or online at www.potterparkzoo.org/donate. On behalf of The Board of Directors, zookeepers and staff at Potter Park Zoo, we thank you for your continuous support.
Sincerely,
Amy L. Morris-Hall
Executive Director
Potter Park Zoological Society