Potter Park Zoo is proud to announce the birth of a female tufted deer fawn April 10, 2023, to parents Lucy and Dezi. The birth is a significant addition to the zoo, as tufted deer are a threatened species in their native China due to habitat loss and hunting.
"The birth of this fawn is both exciting and rewarding," said Kim Hernandez, hoofstock keeper lead. "By successfully breeding, we are contributing to the protection and preservation of this species for future generations to appreciate and enjoy."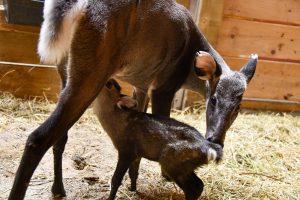 The arrival of the fawn was made possible through the Tufted Deer Species Survival Plan (SSP), a program that ensures genetic diversity and healthy populations of many species in zoos accredited by the Association of Zoos and Aquariums (AZA). Lucy, who arrived at Potter Park Zoo from San Diego Zoo Safari Park in 2019, was paired with Dezi under the guidance of the SSP.
The fawn, weighing in at approximately 1.69 kilograms (3.7 pounds), had a challenging start to life needing a week of veterinary treatment, but now appears to be doing well, said Director of Animal Health, Dr. Ronan Eustace. "The fawn was found to have a failure of passive transfer and she needed supplemental colostrum and antibiotics, but now appears to be doing well. Due to her initial condition, we will continue to monitor her growth and development closely," said Dr. Ronan.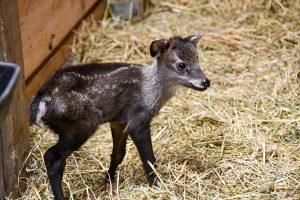 As with many deer species, female tufted deer care for their young on their own, while males do not participate in their upbringing. The fawn, born fully furred with white spots, is already showing signs of independence and curiosity, exploring under the watchful eye of her mother. While the fawn is currently indoors with her mother Lucy, visitors can follow her progress on social media.
Potter Park Zoo is home to nearly 300 animals, including critically endangered black rhinos, endangered red pandas, Massasauga rattlesnakes, and spider monkeys. The zoo is open 364 days a year, providing visitors with a unique opportunity to learn about and appreciate the diverse wildlife of our planet year-round. To learn more about Potter Park Zoo and the incredible animals in their care, visit: potterparkzoo.org.