The Park
Potter Park was dedicated in 1915, after an agreement was reached between James W. Potter and the City of Lansing for the donation of 58 acres of land for the park. The Lansing State Journal reported the celebration brought out thousands of people to enjoy food, music, speeches and many competitions, including pie-eating, nail driving, and tug of war.
Note: There is a commemorative plaque on a large rock to the right as you enter the park off of Pennsylvania. If you take a look, you will notice that the date is 1913. Why the difference? Mr. Potter first presented the gift in 1913. The deed was finalized in 1915, because it took time to work out the details with the city for extending the streetcar line out to Pennsylvania to provide access to the park.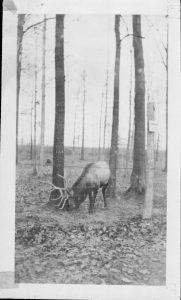 The Zoo
A growing assortment of animals was already on display in Potter Park in 1918 and 1919. Meanwhile, Lansing's Moores Park had its own zoo of sorts by housing elk acquired by the city from the estate of former mayor James M. Turner. Potter Park's evolution to "zoo" status seemed to be connected to the transfer of the elk
to Potter Park when Moores Park began to be developed, and to the city's commitment to provide permanent buildings to support the zoo. It is unclear when the elk were transferred, but the funds for permanent structures were budgeted and construction progressed in 1920, which has been accepted as the year that the course was set that the zoo should become a lasting institution.
Becoming a Modern Zoo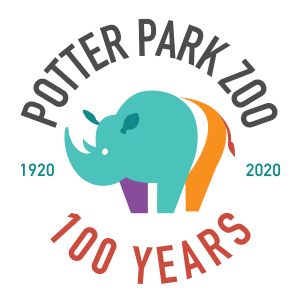 This year we will focus on the history of our journey to become a modern zoo. You can participate by:
Visiting and taking the self-guided tour of centennial signs throughout the zoo. The twenty-one numberedsigns follow the new one-way route.
Following weekly social media posts and sharing your experiences.
Checking website blogs at potterparkzoo.org for more on our history. If you have a story about Potter Park Zoo, go to "Contact Us," look for the "What is your message regarding?" drop-down menu to find "Story Submission for Zoo Centennial."
In 2021, when conditions allow, we want to continue with our plans to showcase what we do as a modern zoo and share our plans for the future. We hope that our commemoration will be as significant as the park opening in 1915, which the Lansing State Journal described as a wonderful show of civic strength and something that broke down divisions among groups by fostering a "do it for Lansing" spirit.​