Potter Park Zoo's Wonderland of Lights has been a staple of the Lansing holiday scene for almost three decades. Thousands have braved the winter weather to enjoy the collection of vibrant light displays mixing animal themes with old standards of the season. It has become a family tradition for many.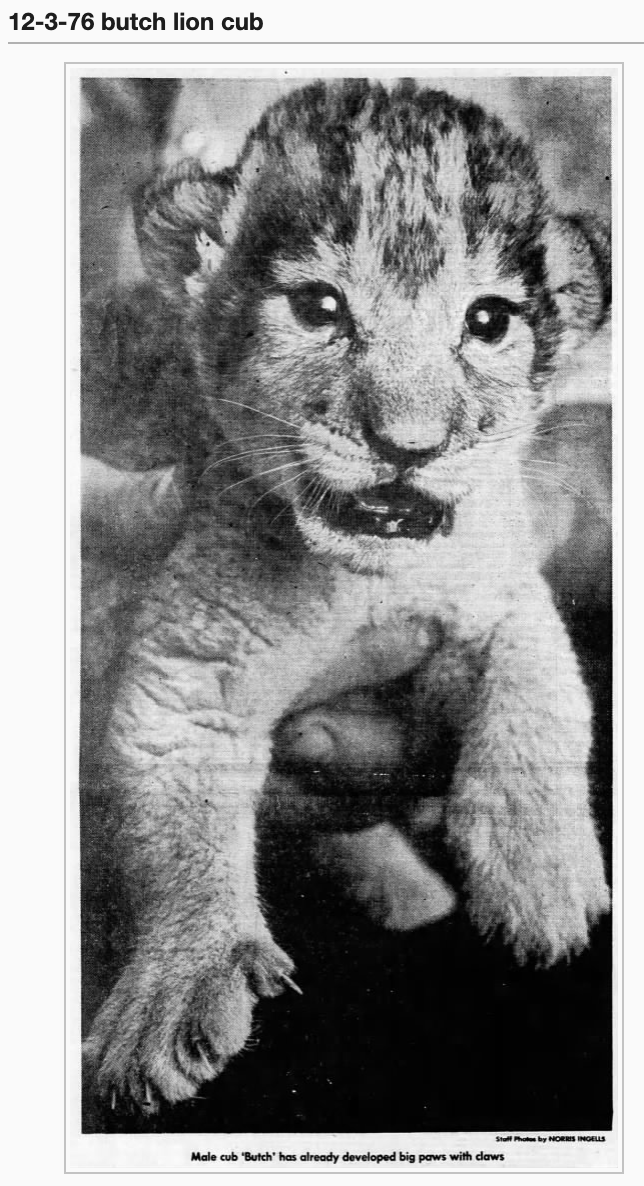 The event that is now Wonderland of Lights took root in 1976. The Friends of the Zoo Society was the fundraising, event, and education arm of the zoo at the time. It held its first Christmas Open House, a one-day event welcoming visitors for cookies, Santa, a slide show showcasing zookeepers at work, and a discussion of the zoo's future. An exciting surprise stole the show, however. Three weeks prior, a pair of lions, Butch and Sunnie, were born. They could be seen in an incubator through a window at the Open House. A Lansing State Journal writer reported that they "didn't do much besides sleep, but they did that in a very charming way."
The Open House continued for several years, remaining a one-day event. By 1984 some changes were underway. Zoo Society newsletters asked for donations of lights for Christmas displays. The Open House evolved into an evening affair with colorful Christmas trees, candle-lit walkways, carolers, and storytellers to go along with the cookies and hot cocoa. In the subsequent years, (during which the Friends of the Zoo Society became the Potter Park Zoological Society), most of these festivities consisted of a two-day, weekend event under different names until 1992, when the zoo offered the Twelve Days of Christmas, on a series of four Friday-to-Sunday weekends in December.
In 1993 the holiday festivities officially became the Wonderland of Lights, beginning on Thanksgiving evening and running through January 1. Such a production took many hands and many hours to materialize. In preparation, zoo volunteers visited the Toledo Zoo for a one-day workshop to learn how to make the displays. Planning began in the summer, working on the displays was underway in September, and putting up the lights followed. Of course, taking them all down was another project.
Among the many light displays in that first year were a baby elephant, skating bears, and a 12-ft tall teddy bear that welcomed visitors. In addition, there was over a mile of luminaria lining walkways, miniature lights on bushes and trees, and hundreds of white lights outlining the Feline/Primate House.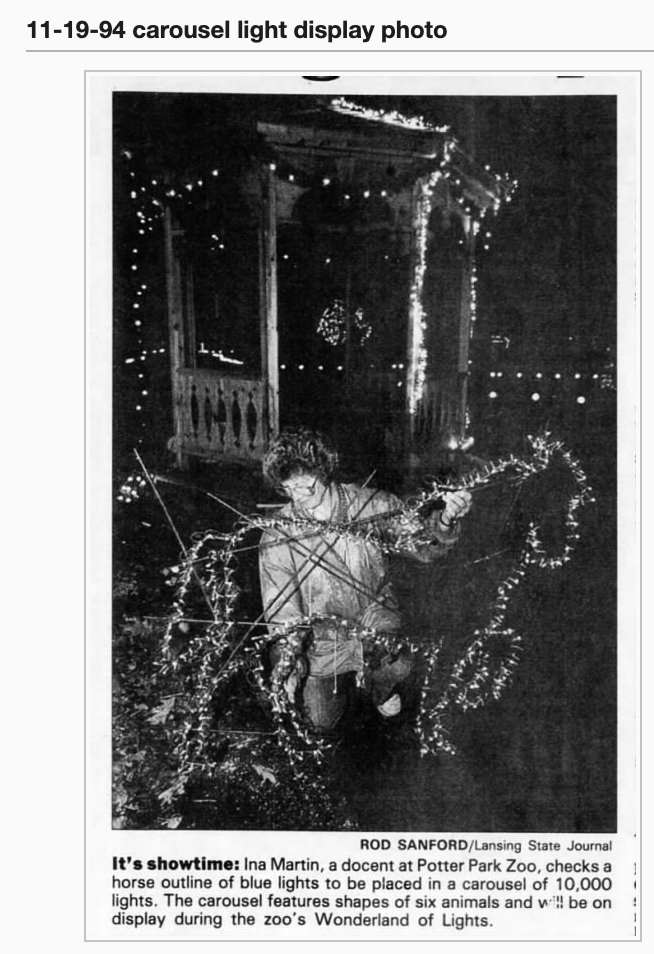 Over the years, elements included the holiday lights and animal displays, Santa and Mrs. Claus, storytellers, choirs, hot food, cookie decorating, kids' crafts, face painting, docents giving up-close looks at education animals, and a collection night for Toys for Tots. For some time, it was common practice to showcase various area communities on different nights with zoo personnel welcoming the local mayor or supervisor along with residents.
This year we offer Wonderland of Lights, COVID-style. It's a bit abridged but still a Potter Park Zoo tradition.
Do you have a story about Wonderland of Lights or its predecessors? Share your story. Go to "Contact" on this website and leave a message in the drop-down menu to "What is your message regarding?" – "Story Submissions for Zoo Centennial." Please include the decade or general time frame that applies to your story.