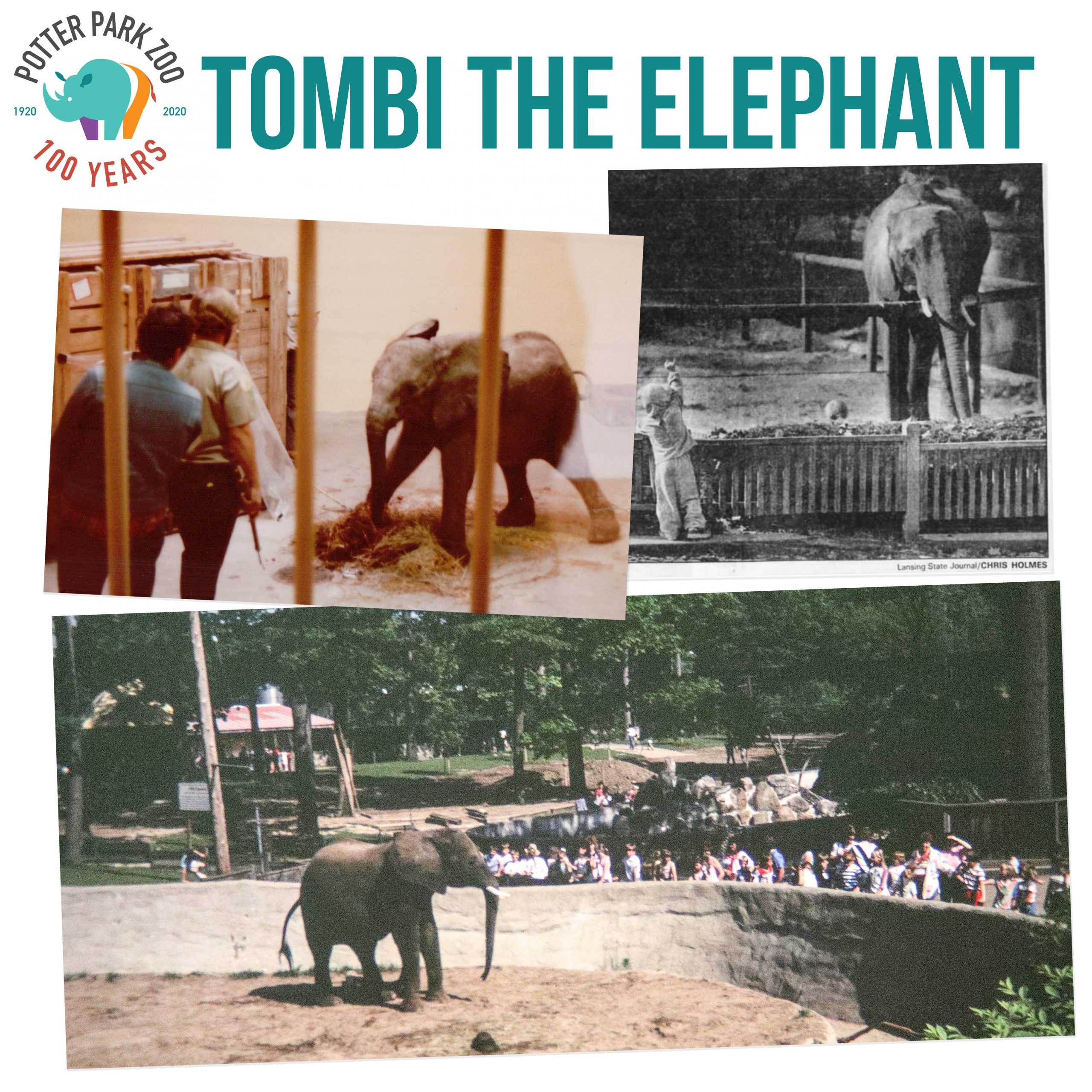 Tombi the elephant spent the 1980s at Potter Park Zoo. Visitors loved her. It was hard to see her leave, but it was the right thing for Tombi and an important step in Potter Park's journey to become a modern zoo.
Bingo the elephant was very popular in her time at the zoo – and very missed when she was gone in 1979. That experience left the Lansing area wanting another elephant. Very soon the Friends of the Zoo Society began a fundraising drive, and the zoo staff located Tombi.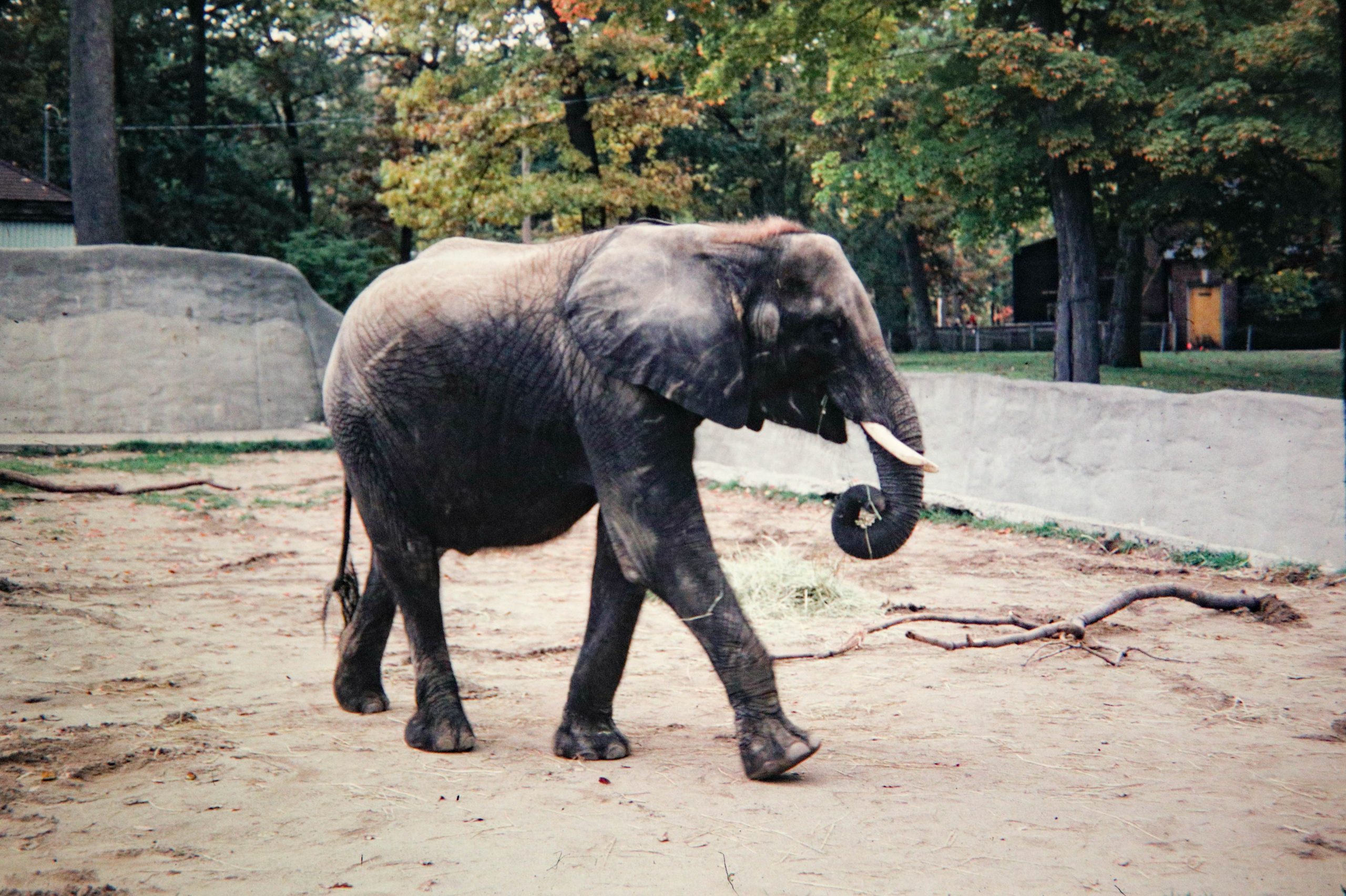 Tombi was a young female African elephant that was born in the wild in Africa some time in 1976. She was about three years old when she arrived at Potter Park Zoo from a wild animal park in Texas in November 1979. Reportedly she was about 40 inches tall and weighed 400 pounds. She moved into Bingo's old quarters.
A professional elephant trainer was hired to train the keepers to train Tombi so they could manage her safely. She learned a variety of commands such as sit, lie down, roll on her side, line up (go to a particular spot and stand at attention), and foot (to lift it for examination). Classes of school children were allowed to enter the yard to visit her, and her keepers would lead her over to the children and have her lie down and roll on her side.
The community enjoyed Tombi and watching her grow up, but changing knowledge and attitudes about how zoos should care for elephants were coming that would greatly affect Potter Park Zoo and Tombi.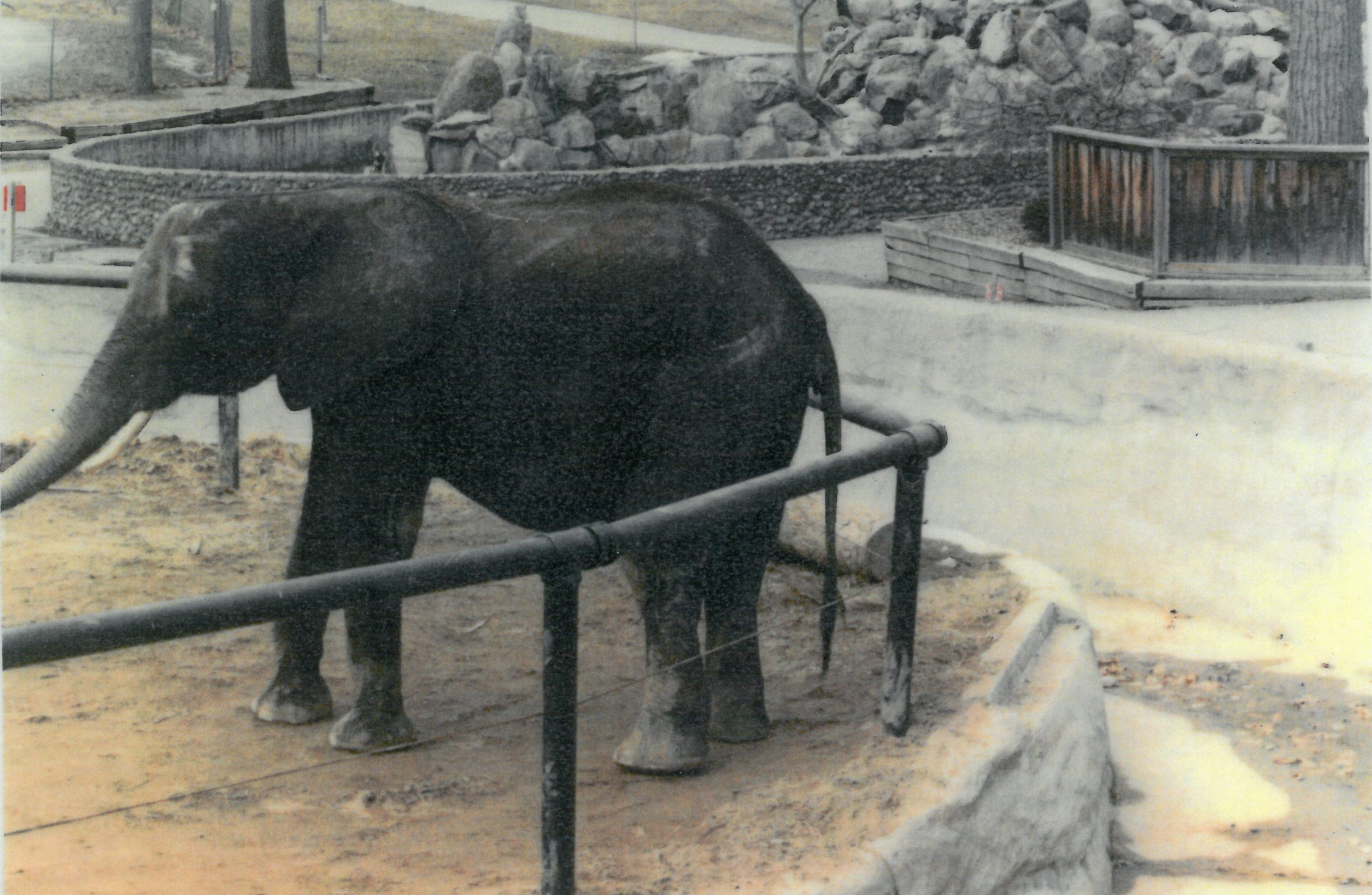 In 1986, Potter Park Zoo became an accredited member of the American Association of Zoological Parks and Aquariums (AAZPA), later renamed the Association of Zoos and Aquariums (AZA). This group provided leadership and standards for accreditation, prompting changes in zoos around the country. These standards were research-based, reflecting the best science and animal welfare notions that are the foundation of modern zoos. Among these standards are very strict and extensive guidelines that must be met by any AZA facility housing elephants.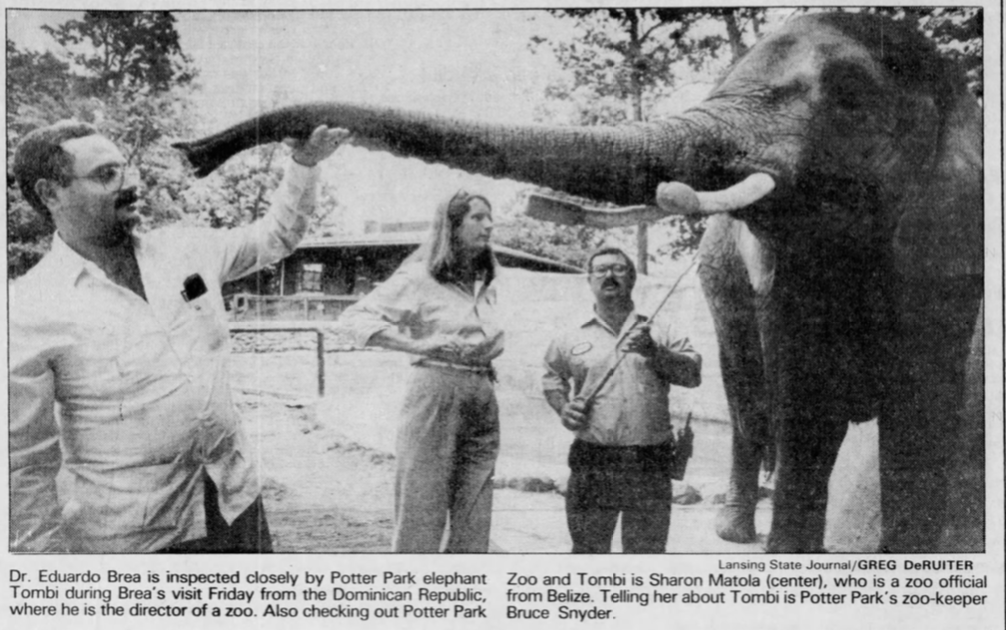 Elephants are very intelligent. They need lots of space in which to move and other elephants from which they experience companionship and learn appropriate elephant social behavior. Potter Park Zoo did not have the resources to meet these requirements and decided to relocate Tombi to the Indianapolis Zoo in late 1989 to be a part of a herd.
Thirty years later, how has Tombi done in her new life?
She's still thriving at the Indianapolis Zoo!
Tombi had a lot to learn about being an elephant and navigating the social world of a herd. At the time of her arrival she was more comfortable with people than with the elephants. She was described as being meek. She could be intimidated by the others and needed more confidence.
It was a good sign when she began to play with some of the others. She grew into her role as a favorite auntie to the young elephants. She never had babies herself and is reported to not be as social as other members of the herd, but remains an important member of the group.
She is described as "quiet and sweet" and works well with the keepers, participating in baths, walks, enrichment, training, and demonstrations for the public. She is a great ambassador for her species in education efforts.
She also inspires conservation representing African elephants as a part of Photo Ark, a National Geographic project with photographer Joel Sartore documenting the approximately 15,000 species living in zoos and wildlife sanctuaries. The goal of this project is to inspire people to save species before it's too late. Her good looks and calm demeanor with people probably influenced her selection.
The decision to send Tombi to Indianapolis was a good one that continues to benefit her and the herd she lives in.
To see more on Tombi and her life in Indianapolis:
Do you have a story about Tombi at the zoo? Share your story. Go to "Contact" on this website and leave a message in the drop-down menu to "What is your message regarding?" – "Story Submissions for Zoo Centennial." Please include the decade or general time frame that applies to your story.