Help us name our Red Panda Cub!
Potter Park Zoo welcomed a male red panda cub July 21, 2022, to mom Maliah and dad Deagan-Reid. This fuzzy new addition has been learning all the important things that go along with being a red panda and is growing every day.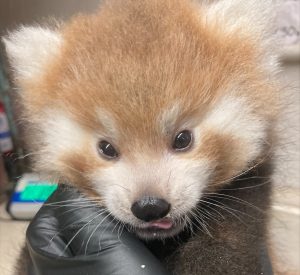 This news is exciting for Potter Park Zoo and a big win for conservation of this endangered species. Arriving from the Knoxville Zoo in 2021, Deagan-Reid was paired with Potter Park Zoo female Maliha by the Association of Zoos and Aquariums (AZA) red panda Species Survival Program, which recommends pairings that will maintain genetic diversity in the red panda population. The pair have had two successful litters in two years.  With fewer than 205 red pandas in AZA institutions, Maliha's new cub is a valuable addition to the red panda population.
The red pandas are a fan favorite of all zoo visitors, and this little bundle of joy has captured the hearts of zoo staff and guests. Once the cub is a bit bigger, he will be visible to guests. The zoo team will continue to share video and photo updates on social media.
We need your help choosing a name for our new furry resident!
There are five name options to vote from:
Raju (meaning prosperity in Sanskrit)
Ravi (meaning the sun in Sanskrit)
Wilson
Dwight
Archie
Make a special donation to the Potter Park Zoological Society with your vote. Every $5 donated counts as a vote toward the name of your choice (i.e., $10 equals 2 votes). All donations will support Potter Park Zoo and its mission of inspiring conservation of animals and the natural world. Vote here today!