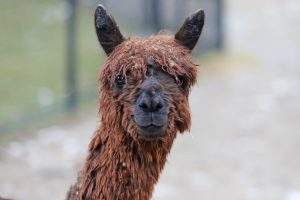 There are a few new faces in the Potter Park Zoo Barnyard! Three Suri alpaca now call the zoo home and the zoo staff have already grown attached to these adorable even-toed ungulates. Alpaca are members of the camelid family and are related to camels, llama and vicuna.
These alpacas may look a little different than other alpaca you may have seen. There are two types of alpaca: the Suri and the Huacaya. Potter Park Zoo has Suri alpaca, which make up about 15% of alpaca in the United States. They have longer fleece that clings together in individual clumps.  In contrast, Huacaya alpacas have a soft, fluffy coat similar to that of a llama. Both breeds come in a wide range of colors, from white to fawn to brown to gray to black.  Generally, Suri alpaca are sheared every other year.
Alpaca are a herd animal, which is why the zoo decided to bring in three at the same time. Mac, a male born in 2010, is the oldest male of the trio and has a brown coat with white markings on his face. Frank, the youngest male, has a darker brown color and was born in 2016.  Lola is the only female of the trio and she has a black coat. She was also born in 2016.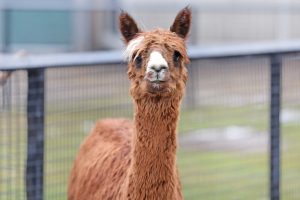 "We are excited to introduce our zoo guests to a rare breed of alpaca.  This marks the start of our farmyard transition to heritage livestock," said Potter Park Zoo General Curator Sarah Pechtel.
What's the difference between an alpaca and a llama? Alpaca are smaller and have been bred for their coats which are sheared for the fiber to be used for luxurious textiles and clothes.  Llama have been raised as pack animals and are often used as guard animals for other livestock like alpaca and sheep. Alpaca weigh in at 150 pounds and are only 3 feet tall at their shoulder. Alpaca are very adaptable animals and can handle a wide range of temperatures, making them a great species to see year round at Potter Park Zoo. Visitors to the zoo can see the new alpaca in the farmyard next to the Guinea hog.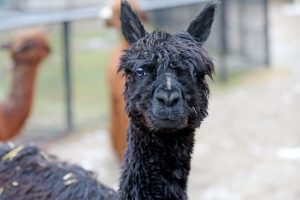 "Winter is a great time to visit Potter Park Zoo. Many species are their most active in the colder winter weather, and it's a great time to see the new Suri alpaca. We're open 364 days a year and now through April 1 admission is $3 for adults and $2 for children," said Cindy Wagner, Potter Park Zoo Director.