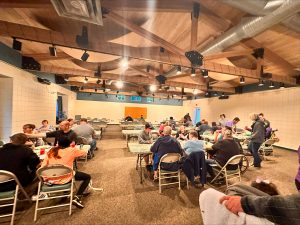 Potter Park Zoo celebrated its 4th Annual Sensory Friendly Dinner Sept. 29, 2023, as part of its FALCONERS program. FALCONERS, now in its eighth year at Potter Park, provides low-sensory events each month for individuals and families facing unique challenges such as autism and developmental disabilities.
This year's dinner, hosted at the zoo's Discovery Center, was a resounding success. Families and groups from across the Mid-Michigan area came together to enjoy a delightful evening. The event featured complimentary meals generously provided by Olive Garden's Okemos location.  The Potter Park Zoological Society provided delectable desserts by Oh MI Organics and Baked Goods by Dominic.
A total of 160 meals were distributed to FALCONERS families, allowing them to dine on-site, fostering connections within their own families and with others facing similar challenges. One of the highlights of the evening was the opportunity for FALCONERS families to explore the zoo after hours. The serene and unobtrusive setting allowed families to connect with wildlife, fostering a sense of wonder and understanding. It exemplified Potter Park Zoo's dedication to inspiring a love for nature and conservation among its visitors.
Mariah Martinez, the coordinator of FALCONERS at Potter Park Zoo, expressed her delight at the event's success. "After the success of our previous campground dinners, we were thrilled to offer this accessible, cost-free option to our FALCONERS families," said Martinez. This special dinner allowed our FALCONERS families to enjoy a unique and enjoyable experience inside the zoo, with Olive Garden's delicious cuisine adding to the festivities."
Garth Hooper, the general manager of Olive Garden's Okemos location shared his enthusiasm for being a part of this meaningful event: "Olive Garden is proud to be associated with Potter Park Zoo's FALCONERS program. We are excited to contribute to the community and witness the positive impact FALCONERS has on the lives of families facing unique challenges. We believe in the power of inclusivity and are excited to support initiatives that make a difference."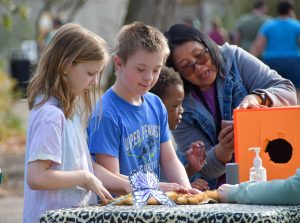 FALCONERS is designed to provide children and adults of all ages with special needs and unique challenges, such as autism or developmental disabilities, and their families an enriching educational experience in a safe, welcoming, and sensory-friendly environment. Potter Park Zoo extends its gratitude to MiAble, the sponsor whose support has played a pivotal role in the continued success of the FALCONERS program. The zoo also thanks Olive Garden's Okemos location for their invaluable contribution as the food sponsor for this year's Sensory Friendly Dinner.
Potter Park Zoo remains committed to creating accessible, inclusive, and memorable experiences for everyone. The 4th Annual Sensory Friendly Dinner marked another successful step in achieving this mission, and the zoo looks forward to continuing these initiatives in the future.
Ready to join the fun? You can sign up for future FALCONERS events here.