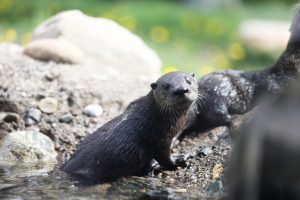 They're out! The North American river otter pups will be on exhibit every day from 11 a.m. to 4 p.m. starting Friday, May 25, 2018. We can't wait for you to come to the zoo and see the otter pups and mother Nkeke!
The two male pups were born in the early morning Feb. 6, 2018 at Potter Park Zoo. Over the past couple of months the pups needed to develop skills, including swimming and eating solid food, before they were ready to venture out of the nest box and outside in the exhibit. We're happy to report both pups seem to enjoy swimming in the pools and actively explore the outdoor exhibit with mom Nkeke.
Want to learn even more about the pups? Join us on Saturday and Sunday at 1 p.m. for Zookeepers talks in front of the otter exhibit!
General Admission prices to the zoo:
resident adult – $6.00
non-resident adult – $12.00
resident senior (60+) – $5.00
non-resident senior – $11.00
all children (ages 3-12) – $4.00
All children Under 3 – FREE