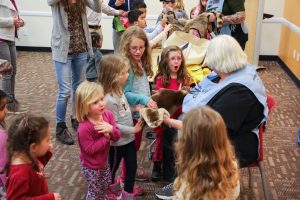 How are you spending your spring break? Staying in town? Great! Come visit us at the zoo, or attend a zoo program close to you!
Spring break is the perfect time to check out Zoo in Your Neighborhood. This new program is designed to reach out to more members of our community with free outreach programs. There are two during the week of spring break that you can attend. What better way to have fun in your community than a FREE zoo program?
April 4, 2018 10:15 AM – 11: 15 AM
Live Animal Presentation at Capital Area District Libraries – South Lansing.
April 6, 2018 2:30 PM – 3:15 PM
Live Animal Presentation. Held at the Bethlehem Lutheran Church on Mt. Hope Ave.
See all future events here: https://potterparkzoo.org/ziyn/
How can you come to Potter Park Zoo for FREE over spring break?
Throughout the mid-Michigan area there are community partners that have FREE zoo passes available to check out. Four zoo family passes are available at each of the locations listed below. One pass allows one household into the zoo. The passes can be "checked out" for two weeks and families can come to the zoo with no admission or parking charge. After the two weeks they are to be returned to the community partner location so another family can enjoy the zoo!
Briggs District Library
108 E Railroad St
St. Johns, MI 48879
989 – 224 – 4702
Cristo Rey Community Center
1717 N High St.
Lansing, MI 48906
517 – 372 – 4700
Delta Township Library
5130 Davenport Dr.
Lansing, MI 48917
517 – 321 – 4014
Eaton Rapids Public Library
220 S. Main St
Eaton Rapids, MI 48827
517 – 663 – 8118 ext 4
East Lansing Public Library
950 Abbott Road
East Lansing, MI 48823
517 – 351 – 2420
Letts Community Center
1220 W Kalamazoo St
Lansing, MI 48915
517 – 483 – 4311
Foster Community Center
200 N Foster Ave
Lansing, MI 48912
517 – 483 – 4233
Schmidt Community Center
5825 Wise Rd
Lansing, MI 48911
517 – 483 – 6685
Gier Community Center
2400 Hall St
Lansing, MI 48906
517 – 483 – 4313
Capital Area District Libraries – Aurelius
1939 S Aurelius Rd
Mason, MI 48854
517 – 928 – 3743
Capital Area District Libraries – Dansville
1360 Mason St
Dansville, MI 48819
517 – 623 – 6511
Capital Area District Libraries – Downtown Lansing
401 S. Capitol Avenue
Lansing, MI 48933
517 – 367 – 6363
Capital Area District Libraries – Foster
200 N Foster Ave
Lansing, MI 48912
517 – 485 – 5185
Capital Area District Libraries – Haslett
1590 Franklin St
Haslett, MI 48840
517 – 339 – 2324
Capital Area District Libraries – Holt-Delhi
2078 N Aurelius Rd
Holt, MI 48842
517 – 694 – 9351
Capital Area District Libraries – Leslie
201 Pennsylvania Street
Leslie, MI 49251
517-589-9400
Capital Area District Libraries – Mason
145 W. Ash. Street
Mason, MI 48854
517 – 676 – 9088
Capital Area District Libraries – Okemos
4321 Okemos Rd
Okemos, MI 48864
517 – 247 – 2021
Capital Area District Libraries – South Lansing
3500 S Cedar St
Lansing, MI 48910
517 – 272 – 9840
Capital Area District Libraries – Stockbridge
200 Wood Street
Stockbridge, MI 49285
517 – 851 – 7810
Capital Area District Libraries – Webberville
115 S. Main Street
Webberville, MI 48892
517 – 521 – 3643
Capital Area District Libraries – Williamston
201 School Street
Williamston, MI 48895
517 – 655 – 1191