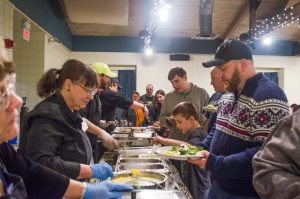 Potter Park Zoo held two free dinners for individuals and families with unique challenges such as autism and developmental disabilities Jan. 18, 2020 as part of the zoo's FALCONERS program. FALCONERS is in its fifth year, hosting a free monthly program for those with varying disabilities to have a low sensory experience at the zoo.
Coordinator Mariah Martinez has noticed how hard it can be for some FALCONERS families to go out to eat at restaurants.
"Families tell me the different experiences they have at restaurants and they aren't always enjoyable," said Martinez. "A person with autism may have a sensory overload and not be able to control their actions in that moment so some families may not feel comfortable going out. Families may have to leave restaurants because of something they cannot control. So why not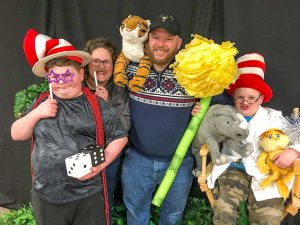 host a restaurant style dinner at the zoo? The zoo has worked hard to be a sensory friendly and welcoming environment where we hope families feel comfortable."
There were two dinners held on the same day at different times to allow more participants to register. The dinner included families and groups from across the Mid-Michigan area and had over 100 people in attendance.
Many participants of FALCONERS are unable or uncomfortable sitting still for long periods of time.  To help with this, there was a photo booth and activity room. Families were encouraged to step out and enjoy the other activities if needed and come back to eat when ready.
Many FALCONERS families come to the Potter Park Zoo events every month as a family outing. Donnesa McPherson is the parent of two FALCONERS participants. Their family has been attending FALCONERS events for over a year and attended the dinner Saturday.
"Our family had the greatest time at the FALCONERS special dinner at Potter Park Zoo! I would really like to thank Mariah Martinez for planning, coordinating and adding some magic," said McPherson. "Also, thanks to Outback Steakhouse for the delicious meal and all the volunteers that make everything possible. You are all amazing and we appreciate everything!"
Two local restaurants were generous and donated food items for the FALCONERS dinner. Outback Steakhouse in Okemos donated chicken breast, chicken tenders, steamed vegetables and salad. They made sure to provide food that was gluten and dairy free so those with allergies could be accommodated. The front house manager, Derick Zanger, and his staff were at the event.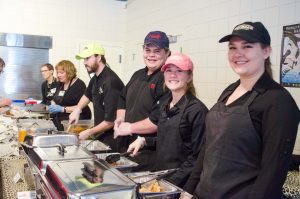 "We were thrilled to be asked to be a part of this amazing event with some even more amazing guests! This was a perfect opportunity for us to get the word out that Outback Steakhouse in Okemos is a fun filled Sensory Friendly Restaurant with great food. Thank you for having us and we look forward to being a part of this fantastic community," said Zanger.
Texas Roadhouse donated chili and their cinnamon butter rolls. Free appetizer and free kids meal coupons were also given to the families by Texas Roadhouse.
"Being a strong community partner is part of our mission," said Dana Barrera of Texas Roadhouse. "We support organizations that help families across the region because family is very important to our local management team and Texas Roadhouse. We're thrilled to partner with Potter Park Zoo and look forward to continuing the partnership for many years to come."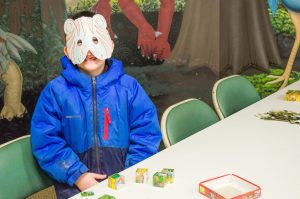 Meijer in Okemos donated a $500 gift card, which allowed the zoo to buy other ingredients for the dinner. Potter Park Zoo is very grateful for all partners who made the FALCONERS dinner event possible.
To find out more about FALCONERS and upcoming events: https://potterparkzoo.org/falconers/ or contact Mariah Martinez at falconers@ingham.org / 517-342-2751.