What's better than a box of chocolates? Cute animal couples from Potter Park Zoo! This year, give your loved one the special gift of "adopting" a Potter Park Zoo animal couple. Adoptions range from $25 to $500 (the highest tier includes the most perks, including a private animal experience at the zoo for the lucky couple)!
Click the photos below for a special Valentine's Day adoption and follow these steps:
Select your adoption level
Select yes for "Is this adoption a gift?"
Under Gift Recipient Information, please type "Happy Valentine's Day!" on Gift Message Line 1. Please use Gift Message Line 2 to continue your message.
Complete remainder of form as needed
​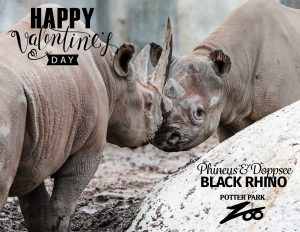 Nine-year-old Phineus, born in Texas, recently made a big move to Lansing Michigan to meet a beautiful nine year old female black rhino named Doppsee. Doppsee is somewhat of a local celebrity, so when news of a potential male coming to Potter Park Zoo was released, the couple became well known through out the community. Click here to adopt!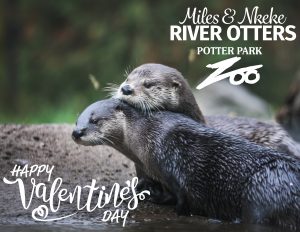 Two outgoing North American river otters call Potter Park Zoo home. Miles, a male, was born at Potter Park Zoo and Nkeke, a female, came to the zoo in 2017.​ The two can be seen swimming, flipping, diving, running and cuddling together and have quickly become a favorite couple among visitors. Click here to adopt!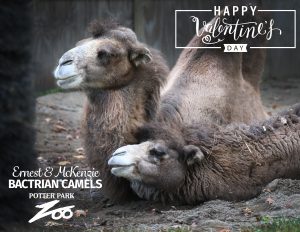 Bactrian Camels Mckenzie, 20, and Ernest, 7, can frequently be seen hanging out together at the zoo. Their snuggles are arguably the cutest in the zoo. Click here to Adopt!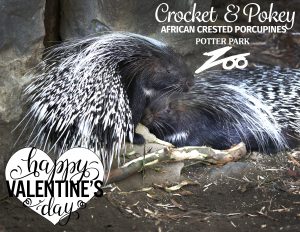 Crockett and Pokey, two African crested porcupines, arrived at Potter Park Zoo in July of 2017.  These two enjoy napping together and interacting with their enrichment.  They especially love fresh branches. Click here to adopt!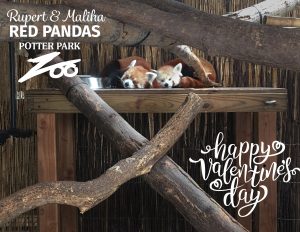 Maliha ( 4 ) and Rupert Jr ( 7 ) have shared their home at Potter Park Zoo for 3 years.  The pair successfully had cubs – twins Roji and Pabu – in 2016.  Though they often like to sleep on separate logs in their exhibit, you may occasionally see them curled up together!  Both love bamboo, cool temperatures and their favorite treats for training. Click here to adopt!