Bored at home and wanting to try something new? You can become a citizen scientist and contribute to important wildlife and nature research right from your couch!
Citizen science is the collection and analysis of data by members of the general public, typically as part of a collaborative project with professional scientists. It's a great way to contribute to scientific knowledge, even if you don't have extensive knowledge (or any knowledge) of a particular scientific discipline.
Want to help discover planets around other planets? Sure! Count elephants in Kenya? You bet! And you can do it all from home!
We have found a website that will allow you to be a citizen scientist from wherever you are. It's called "Zooniverse" (appropriate, don't you think?).
Go to the website by clicking here. 
---
From the Zooniverse website:
"What is the Zooniverse?
The Zooniverse is the world's largest and most popular platform for people-powered research. This research is made possible by volunteers — more than a million people around the world who come together to assist professional researchers. Our goal is to enable research that would not be possible, or practical, otherwise. Zooniverse research results in new discoveries, datasets useful to the wider research community, and many publications.
At the Zooniverse, anyone can be a researcher.
You don't need any specialized background, training, or expertise to participate in any Zooniverse projects. We make it easy for anyone to contribute to real academic research, on their own computer, at their own convenience.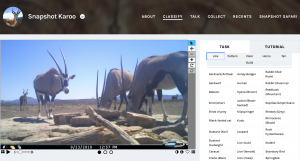 You'll be able to study authentic objects of interest gathered by researchers, like images of faraway galaxies, historical records and diaries, or videos of animals in their natural habitats. By answering simple questions about them, you'll help contribute to our understanding of our world, our history, our Universe, and more.
With our wide-ranging and ever-expanding suite of projects, covering many disciplines and topics across the sciences and humanities, there's a place for anyone and everyone to explore, learn and have fun in the Zooniverse. To volunteer with us, just go to the Projects page, choose one you like the look of, and get started."
---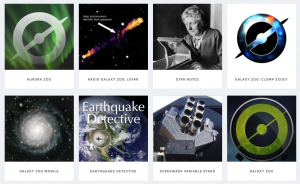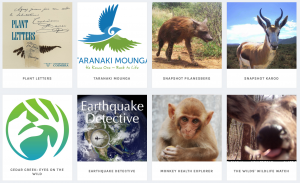 There are many projects to participate in, from astronomy to history to wildlife studies. You can go to www.zooniverse.org to get started. I would recommend checking out the "About" and "Get Involved" tabs at the top of the page to view more background information. When you are ready to dive in, you can select a project and get started (there will be instructions within each project). I also recommend creating an account by clicking "Register" in the upper right corner of the screen before you start your project. You only have to provide your name and email, and create a username and password.
​Happy researching!