Help us name our new bintlets!
Potter Park Zoo celebrated Independence Day with the birth of baby bintlets. Thistle, the zoo's female binturong, gave birth the evening of July 4. This is the first binturong birth at the zoo in over two decades.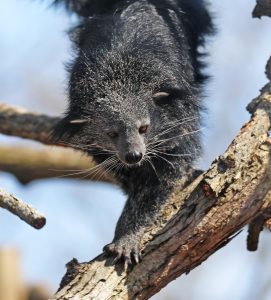 What is a binturong? Binturongs (Arctictis binturong) are mammals native to south and southeast Asia where they reside in the tree tops of dense rainforests. In these forests, they use their long prehensile tail to help climb through the trees and keep their balance.
The two bintlets, a male and a female, are growing more and more each day. The zoo team has been monitoring the new family through a camera in the nest box as well as weighing the babies daily. The two bintlets are continuing to gain weight at a consistent rate and are very strong.
These sweet balls of fur are becoming more curious by the day and will be out on exhibit with mom Thistle in a few months! The bintlets will need time to learn all the fun things about being a binturong, get used to their new home, and grow. In the meantime, we need your help naming them!
There are four name pairs to vote from!
Archie and Shirley
Orville and Betty
Fern and Rufus
Bintang and Zulla
Bintang means star in Malay
Zulla means shade (shade of trees) in Malay
Make a special donation to the Potter Park Zoological Society with your vote. Every $5 donated counts as a vote toward your favorite pair of names (i.e., $10 equals 2 votes). All donations will support Potter Park Zoo and its mission of inspiring conservation of animals and the natural world. Vote here today!