In an ongoing effort to expand accessibility for all zoo guests, Potter Park Zoo has partnered with Able Eyes to provide virtual tours of their main indoor buildings. Ables Eyes' ultimate goal is to make businesses and public venues more accessible for those with disabilities and/or anxieties and allow visitors to build familiarity and preparedness in advance of their visit from the comfort of home. This is a goal that Potter Park Zoo shares. People with autism, ADHD, and PTSD, along with wheelchair users and the elderly are just a few that may benefit from exploring virtual tours prior to their visits.

"Potter Park Zoo is one of the leaders in our area for inclusive practices, ensuring all families of all abilities have the opportunity to experience the zoo. It is an honor to work with Potter Park as they continue working to provide services to the Lansing community, the state of Michigan, and visitors beyond," said Meegan Winters, Co-founder/CEO of Able Eyes.
Mariah Martinez, Community Engagement & Inclusion Specialist, considers the virtual tours an exciting next step in the zoo's efforts towards inclusion and access.
"Last year we created a social story for our FALCONERS families and anyone else who wanted to know what to expect when visiting the zoo. The virtual tours take this further, allowing those with disabilities and anxiety to explore areas in detail. This resource is also great for teachers and future employees, and we are excited to share it with our guests," said Martinez.
Cathy Blatnik, a member of the FALCONERS family, voiced her appreciation for this resource.
"As a parent of a teenage son with autism, ADHD, anxiety disorder and epilepsy, being able to look at the virtual tours by Able Eyes (as many times as he wants) ahead of our visit to Potter Park Zoo, means my son will be fully prepared to visit the buildings and our family will have a stress-free visit," said Blatnik.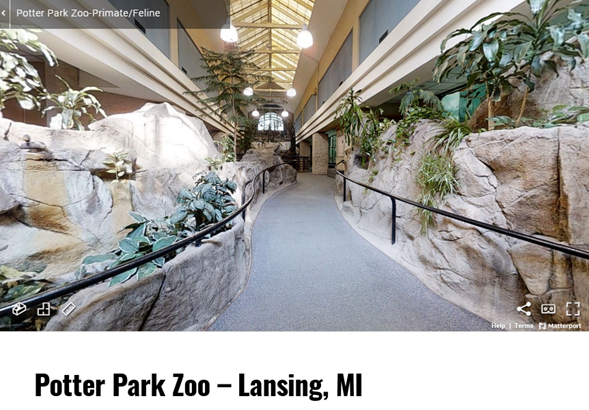 On both Potter Park Zoo's and Able Eyes' website, you can find tours of the Gift Shop, Discovery Center (Education Building), Feline/Primate House, and Reptile/Small Mammal House. The Discovery Center is open for purchasing memberships and for private events, while the Gift Shop,Reptile/Small Mammal House and the Feline/Primate House are open for all guests to enjoy.
If you have any further questions about our provided resources, please contact Mariah Martinez at mmartinez@ingham.org.
Where can you find the virtual tours?
Potter Park Zoo Accessibility Webpage: https://potterparkzoo.org/accessibility/
Able Eyes Website: https://www.ableeyes.org/virtual-tours/potter-park-zoo-lansing-mi/