With the holidays around the corner, we've compiled the ultimate Potter Park Zoo gift guide with tons of options ranging from experiences, apparel, home decor, plush toys, and more! Find the perfect gift for the animal lover in your life while helping inspire the conservation of animals and the natural world.
Potter Park Zoo Membership – Give the Gift of Year-Round Adventure
Are you looking for the perfect gift? One that gets you out of the house while providing education and inspiration? Give the gift of adventure! Potter Park Zoo members make a lasting impact on wildlife conservation – now and for years to come.
Members receive free standard admission, discounts at our gift shop, events, concessions, and much more. You'll also receive discounted admission from other participating AZA-accredited zoos in Michigan and across the country!
To ensure your membership card arrives in time for Christmas, please order before Dec. 17. You can pick the cards up at the zoo 24 hours after your order, or we'll ship the cards to you!
If ordered after Dec. 18, printed membership cards can be picked up at the zoo from 10 a.m. – 4 p.m. through Dec. 24. If you are not able to pick cards up at the zoo during that time, we can ship them to you.
Last minute gift? No problem! Order online and the email you put in for the primary household member will receive a receipt and a virtual membership welcome packet. We can ship the cards to you or pick them up at the zoo after the holidays. Please note, the zoo is closed Dec. 25.
Adopt an Animal
Do you have a favorite furry, feathered or scaly friend at the zoo? Adopt it! You can make a very special donation to the zoo by adopting one of our animals for yourself or as a gift to a friend or loved one.
*Please order before December 17 to leave time for processing before the holidays!
Animal Meet & Greets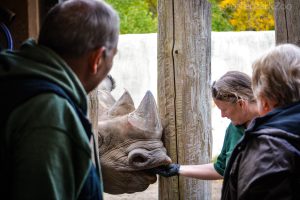 Go behind the scenes of a favorite animal exhibit and meet them up close and personal.  Visit with the Zookeeper who knows them best and learn about their home, daily activities, and what it takes to keep each one healthy and happy. Animal experiences are great gifts and perfect for animal lovers of all ages. To learn more, click the link here.
2023 Wildlife Calendar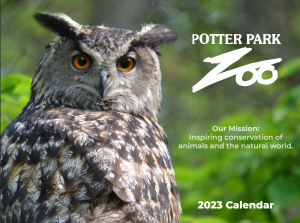 The 2023 Potter Park Zoo Wildlife Calendar features stunning photographs of your favorite Potter Park Zoo animals. Calendars are available with a donation – the suggested donation is $14.
The 2023 Wildlife Calendar is available now in the AniMall gift shop, and can also be shipped to you directly! Order online here. 
Animal Ornaments
Celebrate the holiday season with a fun family activity! Paint ornaments to decorate your tree featuring Potter Park Zoo animals. The ornament designs include a penguin, red panda, snow leopard, and black rhino.
Paint Your Poison and Potter Park Zoological Society host this zoo animal ornament painting kit. A portion of the proceeds from each kit purchased will go toward supporting Potter Park Zoo and its mission of inspiring conservation of animals and the natural world. Ornament kits can be ordered here.
AniMall Gift Shop:
Your One-Stop Shop for Animal Lovers!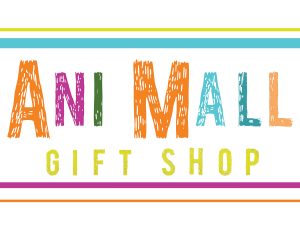 Open Daily: 10 a.m. – 4 p.m. and Thursday – Sunday during Wonderland of Lights: 5-8 p.m.
Visit the AniMall gift shop at Potter Park Zoo for an extensive selection of merchandise featuring all of your favorite animals, including conservation-themed and environmentally-conscious items. From clothing to toys to home decor, we have something for the entire family! If you let the admission staff know you are only visiting the gift shop, admission fees to the zoo are waived!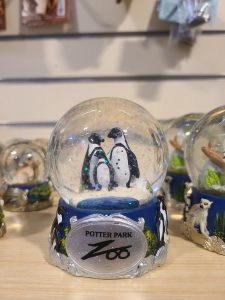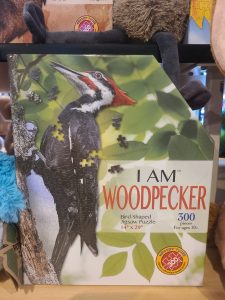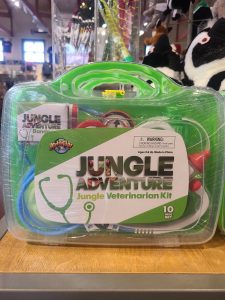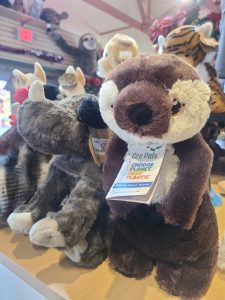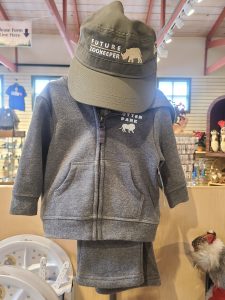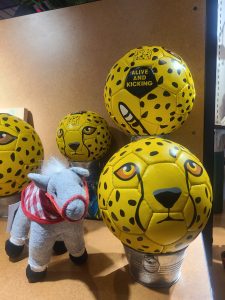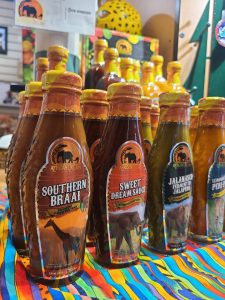 Potter Park Zoo Gift Card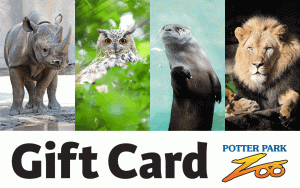 Can't decide on an item?  Leave it up to your recipient with a PPZ Gift Card! Cards can be purchased on-premise at the admissions gate, Discovery Center front desk, and  AniMall gift shop. Guests can also order over the phone at (517) 483-4222 and have their card mailed.
If ordering after Dec. 17, we recommend coming to the zoo from 10 a.m. – 4 p.m. through Dec. 24 to purchase so you will have them by Christmas. Mailed gift cards will likely arrive after Dec. 25.
This is only a small taste of what the AniMall has to offer. Come out and see our full selection for yourself!
Help us to Inspire Conservation of Animals and the Natural World
Consider making a tax-deductible donation to the zoo and help us in our mission to inspire conservation of animals and the natural world.
Click here to easily give online.