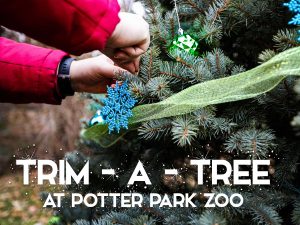 You can help support our animals while having fun with Trim-A-Tree for PPZ! We're offering an opportunity for your family, business, or organization to enjoy an outing at the zoo while sponsoring and decorating a 6-foot tall tree. The trees will be on display during Wonderland of Lights, November 22 – December 29, 2019 at Potter Park Zoo. After the event, the trees will be given to our animals to provide them with some winter enrichment.
We'll cover your tree with beautiful lights before you arrive, then you can decorate the rest (or opt to have the PPZ staff decorate it for you for an additional fee). We'll also put a sign on your tree so the thousands of visitors during Wonderland of Lights know of your contribution to the zoo and our animals. As a thank you, you'll receive 6 complimentary passes to Wonderland of Lights.
Please contact Erin, Fund Development Assistant to learn more information!
eorourke@ingham.org • 517.244.8042
Thank you to Tannenbaum Farms for helping the zoo get ready for our Wonderland of Lights event with beautiful trees for Trim-a-tree decorating. We still have a few trees left if you are interested in sponsoring a tree in dedication to your business, family, friends, or loved ones.