Gray wolves Kamots and Tikanni, two of Potter Park Zoo's most beloved animals, have moved back to the zoo where they were born.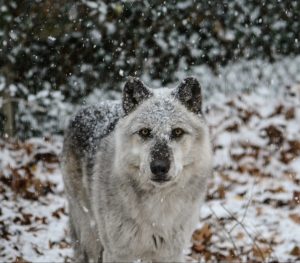 Kamots and Tikanni are siblings born in 2014 at Zoo New York at Thompson Park in Watertown, NY, and have captivated guests with their spine-chilling howls and playful personalities for eight years. After being on loan to Potter Park for nearly a decade, they have returned to New York for the next chapter of their lives.
Potter Park Zoo has a long history with wolves having cared for 11 individuals over the past 30 years. Zoo Director Cynthia Wagner explained "When you are considering the wellbeing of only two wolves, one major concern for these pack animals is that if one were to pass away, the other would be alone – this is not a natural situation for wolves. We have taken steps to prevent this as these brothers are aging, but still healthy and able to relocate."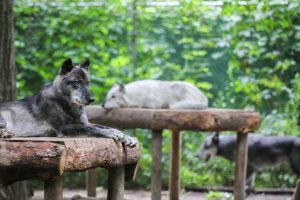 Kamots and Tikanni will be joining their sister Luna. The brothers were previously housed with an elderly female wolf, Tala, who was the alpha in the pack as well as their older sister. She passed away in 2021 at the age of 12 after undergoing care for a cancer diagnosis.
Wagner continued saying the habitat the wolves will be moving to is larger, which is also beneficial to their wellbeing. "We're proud of our long history of taking excellent care of wolves at the zoo," said Wagner. "While this was a difficult decision, we believe it is the best decision for the brothers and the future of this space."
The zoo is working on a plan to transition the space to a habitat for a new species.
Nearly 500 animals call Potter Park Zoo home, including critically endangered black rhinos, endangered red pandas, Massasauga rattlesnakes, and spider monkeys. The zoo is located in Lansing, Michigan, and is open 364 days a year. For more information, visit www.potterparkzoo.org.