Become A Docent at Potter Park Zoo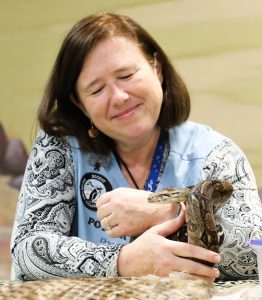 What Is A Docent? "Docent" is the term many zoos and museums use to describe volunteer educators and interpreters.
What Do Docents Do? Zoo docents are the friendly, fun-loving and knowledgeable men and women volunteers who conduct the various educational programs at the zoo and in the community. Chances are you have seen them in their blue vests doing live animal presentations, giving guided tours of the zoo, answering your questions and helping ensure a great experience during your zoo visit. You have also probably seen them doing similar things at schools, day care centers, senior centers and most area public events throughout mid-Michigan.
Benefits Of Being A Docent   As a docent, you'll be participating in one of the best wildlife education programs in the country –engaging people of all ages and backgrounds while inspiring conservation of animals and the natural world. Docents also receive a free family membership to the Potter Park Zoo and a discount in the AniMall Gift Shop after one year of service. These extra perks are nice, but ask any docent and he/she will tell you the most rewarding part of being a docent is watching excited faces light up as you give people amazing animal experiences and help them understand the vital role we all play in making sure we have a healthy and sustainable planet.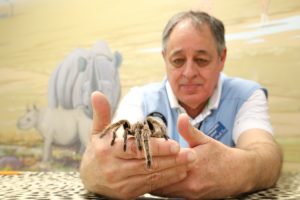 How Do I Become A Docent? While prior experience working with animals, teaching and/or public speaking is a plus, it is not required. The nine week docent training course is comprehensive and will get you ready to go. To become a docent you must be 18 years of age or older, successfully complete the docent training course, have good communication skills and the ability to volunteer at least 50 hours per year for at least two years. Docents must also be able to lift 25 pounds and walk one mile. All qualified docents will be asked to interview with Education Department staff.
What Does It Cost? There is an initial $35 registration fee for all candidates who are accepted into the docent program and a materials fee due upon completion of the course (usually another $25-$30).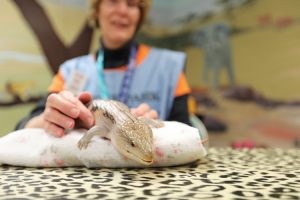 Interested? Click on the link below and fill out an application. Applications for the 2018 class are due January 31, 2018. Docent training course will be held mid-February-early April. https://potterparkzoo.org/docent-application/
For other volunteer opportunities: https://potterparkzoo.org/be-a-volunteer/.