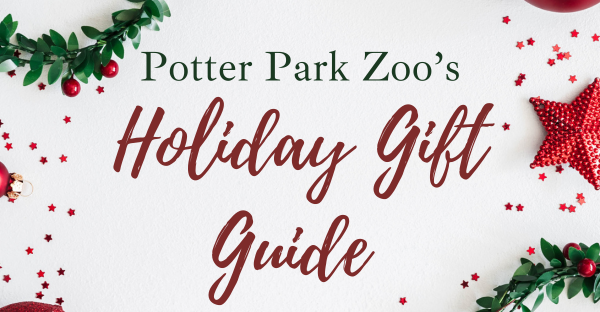 Park Zoo Holiday Gift Guide: Gifts with a Purpose!
As the holiday season approaches, it's time to get into the spirit of giving. This year, why not make your gifts heartwarming and purposeful? We've crafted the ultimate holiday gift guide, featuring a range of options to delight the animal lovers in your life. The best part? Every purchase contributes to our mission of inspiring conservation of wildlife and the natural world.
---
Potter Park Zoo Membership – The Gift of Year-Round Adventure
Are you searching for a gift that offers adventure, education, and inspiration? Look no further! A Potter Park Zoo membership is the gift that keeps on giving. Members enjoy free standard admission, and discounts at our gift shop, concessions, events, and even at other participating AZA-accredited zoos across Michigan and the country. To make sure your membership cards arrive on time for Christmas, please place your order before Dec. 18.
💡 Last-minute shopper alert! If you order after Dec. 18, you can pick up your printed membership cards at the zoo. For the tech-savvy, we've got you covered too – you'll receive a virtual membership welcome packet by email.
---
Adopt an Animal – Make a Furry Friend Yours!
Have a particular zoo animal that holds a special place in your heart? Symbolically adopt it! You can make a heartwarming donation to Potter Park Zoo by adopting one of our charming animals – a delightful gift for yourself or a loved one. Remember to place your order by Dec. 17 to ensure processing in time for the holidays.
---
Animal Meet & Greets – Get Up Close and Personal!
Gift a one-of-a-kind experience with our Animal Meet & Greets. These behind-the-scenes encounters connect you with your favorite zoo animals and the knowledgeable zookeepers who care for them. It's a perfect gift for animal enthusiasts of all ages.
---
2024 Wildlife Calendar – A Year of Animal Magic!
Adorn your space with enchanting photographs of your favorite zoo animals. The 2024 Potter Park Zoo Wildlife Calendar is now available at the AniMall gift shop, or you can order it online. It's both a delightful calendar and a meaningful contribution to our mission.
---
Animal Ornaments – Crafty & Festive Fun!
Celebrate the holiday season with a creative family activity – painting ornaments featuring Potter Park Zoo animals. Our selection includes designs like the Arctic fox, Eurasian eagle-owl, North American river otter, and the Pallas' cat! Plus, a portion of the proceeds from each kit purchased supports the zoo's conservation mission. You can order these here.
---
AniMall Gift Shop – The Perfect Pit-Stop for Animal Lovers!
You won't want to miss the AniMall gift shop at Potter Park Zoo. Explore a wide range of merchandise, including conservation-themed and eco-friendly items, from clothing to toys to home decor. For those visiting the gift shop only,  your admission to the zoo is waived – let our friendly admission staff know. This selection is just a glimpse of what our AniMall gift shop has for you.
---
Potter Park Zoo Gift Card – The Ultimate Gift of Choice!
Can't decide on the perfect item? Let your recipient choose with a PPZ Gift Card. They can be purchased on-site at various locations or ordered over the phone. Please note, if you're ordering after Dec. 18, it's best to visit the zoo to ensure your cards arrive by Christmas.
---
Join Us in Making a Difference!
Consider making a tax-deductible donation to Potter Park Zoo in the spirit of the season. Your contribution helps us in our mission to inspire the conservation of animals and the natural world.
Start your holiday shopping today and be part of something wonderful – the magic of gift-giving, with a purpose!
Thank you for your continued support and commitment to wildlife conservation. We are wishing you a joyous and heartwarming holiday season!