North American river otter Nkeke is a new mom following the birth of two pups Sunday, Feb. 9 at Potter Park Zoo. Animal care staff was prepared for the birth and captured it through a video camera monitoring system. The two pups are the second successful birth for Nkeke and father Miles and an exciting start to 2020 as the zoo prepares for its centennial celebration this summer.
"It has been an eventful winter at Potter Park Zoo with the birth of Jaali, an eastern black rhino, and now two North American river otters. We are excited to share these births with the community as we celebrate our centennial," said Cynthia Wagner, Potter Park Zoo Director.
On the pup's second day of life, Dr. Ronan Eustace, Potter Park Zoo Director of Animal Health and Adjunct Professor at Michigan State University, performed the pups first veterinary exam. This quick physical exam is necessary as it allows zoo staff to check for any abnormalities or injuries and to get a baseline body weight.
"The pups look healthy and are nursing regularly. One pup weighed in at 106 grams and the other at 118 grams. We will continue to monitor Nkeke and the pups closely over the next couple of months," said Dr. Eustace.
Nkeke arrived at Potter Park Zoo in the fall of 2016 from Roger Williams Zoo in Rhode Island. The North American River Otter Species Survival Plan (SSP) by the Association of Zoos and Aquariums recommended that Nkeke pair with Miles, the father of the new pups, who was the first otter pup born at the zoo in 2013.
The animal care team first observed signs of Nkeke possibly being pregnant over the past month, but since the species has delayed implantation, it was not possible to predict a specific due date. Delayed implantation occurs when a fertilized egg does not implant in the uterus until a later date. River otters often delay implantation for as many as 273 days. After the egg has implanted, actual gestation is only about 60 days.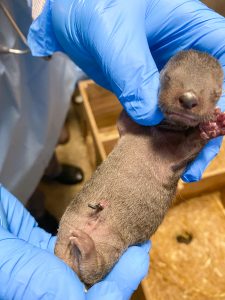 Otter pups are born with fur on their bodies and their eyes closed. Their eyes will open around 35 days old and they will begin swimming lessons from mom sometime after they're a month old.
Zoo visitors can see father Miles on exhibit now, but won't be able to see Nkeke or the pups for a few months. Follow Potter Park Zoo on social media and on their blog for regular updates on the new otter family!