Start the new year off a little more green than the last. What better time to make some changes? If we take a few small actions, they will add up to big results!
Reusable produce bags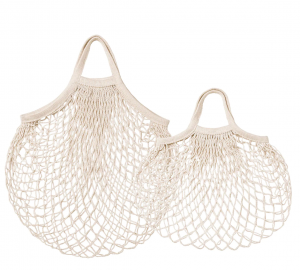 Many people have made the switch to reusable shopping bags. But when you go to the produce section, do you still reach for the plastic baggie to put your fruits and veggies in? Consider getting a reusable produce bag to put in with your shopping bags. The brand in the link below are also made with sustainable cotton. https://www.ikea.com/us/en/p/kungsfors-mesh-bag-set-of-2-natural-20372834/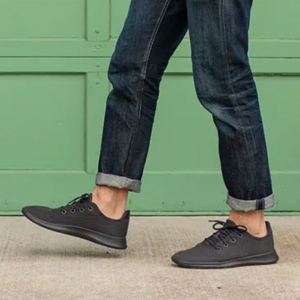 Allbird Shoes
These awesome shoes are made from wool, tree fibers and sugar cane. This company is going carbon neutral in 2019!  Even the laces are made with recycled plastic water bottles!  https://www.allbirds.com/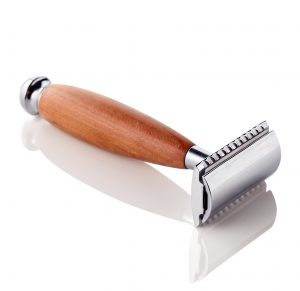 Safety Razor
If you are thinking about getting Dad or brother a new razor this year, check out some choices that are eco-friendly. Safety Razors have been around for a long time. There are many on the market that do not have any plastic in the handles or the blades. The savings from switching from disposable razors to safety razors can add up to thousands of dollars over the years. The savings comes in the fact that you are only replacing the razor blades. The dull razor blades can be sharpened so they last longer. Some recycling companies will allow you to recycle the blades if they are in another recyclable metal container.
Dish Washing Block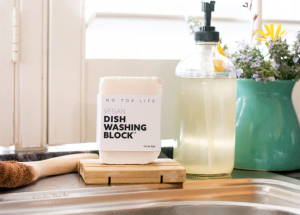 Another place we see a lot of plastic is the kitchen. Eliminate one plastic container in your kitchen by purchasing a Dish Washing Block. This soap cleans just as well as its liquid competitors and there is no waste left behind. It is phosphate, sulfate, paraben, and fragrance free; safe to use with septic systems, and made without palm oil. Pair it with a bamboo scrubber and you have a winning team!  https://notoxlife.com/products/zero-waste-dish-washing-block-single
Eco-Friendly Options to Purchase at Potter Park Zoo
Did you know that you don't have to pay the admission if you are only going in to shop at the AniMall Gift Shop or purchase a membership?
Zoo Hours: 10 a.m. to 4 p.m. Daily
Wonderland of Lights Hours: 5-8 p.m. Thursday, Friday, Saturday, and Sunday nights Nov. 22- Dec. 29.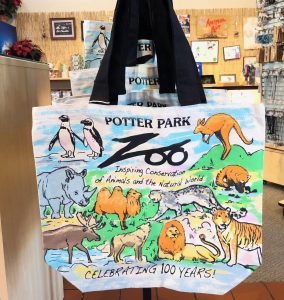 Centennial Reusable Bag
Potter Park Zoo is turning 100 years old in 2020. To celebrate the event, we have some very special items in the AniMall gift shop. Check out this awesome centennial edition custom canvas reusable bag! Great for shopping trips or even everyday use.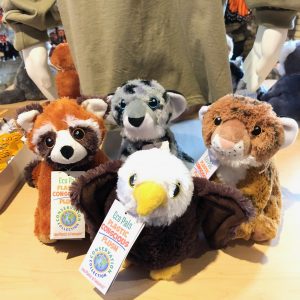 Eco Pals Plush toys
These adorable plush toys are also available in the AniMall gift shop. Plush toys with the Wildlife Artists label are made with recycled plastic water bottles. They also do not have any plastic eyes, noses or other parts made from hard plastics. Zoo gift shops like the AniMall here at Potter Park Zoo are doing their part to encourage and purchase from vendors that are instituting green practices into their operations. The Petting Zoo, which is another manufacturer of plush animal toys you can find in the gift shop here at Potter Park Zoo, created this cool video on how their toys are made. Check it out here. Check out this cool video on how the plush toys are made! https://www.youtube.com/watch?v=WzN4VsGHFsk&feature=youtube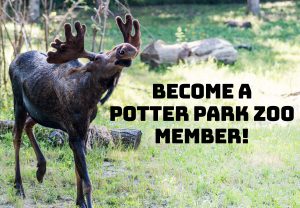 Zoo Membership
Zoo membership is a gift that keeps on giving all year long. Zoo members get regular e-newsletters, discounts at the gift shop and concessions at the zoo, reduced rates for Sundown Safari Family Camping and Zookambi Summer Camp, and a special "Members Only Party" at the zoo! All of these things are in addition to the fact that you can come to the zoo as many times as you would like throughout your year-long membership.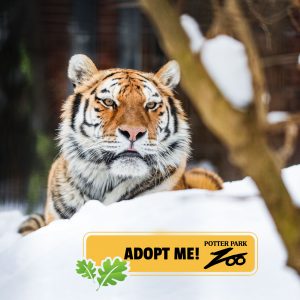 Adopt-an-Animal
Does your child or grandchild have a favorite animal at the zoo? You ALWAYS have to stop and see the red pandas when you visit, or maybe it's the river otters? Why not adopt? This is a symbolic adoption and unique donation which supports the zoo's mission – to inspire conservation of animals and the natural world. Different levels of adoption have different perks like an adoption certificate, a photo of the animal, and even a plush animal at some levels! There is even an eco-adopt option.
If you like these Holiday List Ideas, check out some of our earlier blog posts about eco-friendly products and other animal-related gifts in the links below:
Take the Plastic Free Eco-Challenge with Potter Park Zoo!
https://potterparkzoo.org/take-the-plastic-free-eco-challenge-with-potter-park-zoo/
Gift Guide for the Animal Lover
https://potterparkzoo.org/2019-gift-guide-for-the-animal-lover/
Blog written by Megan, Education Coordinator