Help Feed the Potter Park Zoo Animals by Donating Fresh Browse!
*Donations by Appointment Only*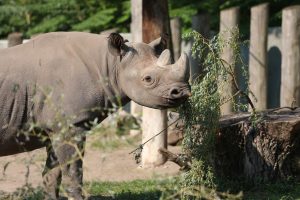 Every day Potter Park Zoo feeds browse (non-toxic branches and leaves from specific species of trees and shrubs) to many of our animals – including the rhinos, bongo, lemurs and many birds – food that is exactly like what they would consume in the wild.
By feeding browse, the animals can mimic natural foraging behaviors – such as nibbling leaves, stripping bark, and chewing on stems.
If you have a tree or shrub on the list below and will be trimming it soon, contact us by emailing pfountain@ingham.org or call (517) 483-4222.
Potter Park Zoo Edible Plant List
Autumn Olive 

Bamboo

Beech     

Box elder no seeds with branches/foliage

Cottonwood- Populus deltoides   

Dogwood

Elm- Ulmus spp.

Forsythia

Grapevine     

Honeysuckle

Maple    

Mulberry

Norway Maple       

Sassafras

Silver Maple – fresh (non-wilted) only                     

Tulip Tree

Sugar Maple – fresh (non-wilted) only                      

White Ash

Willow      

Redbud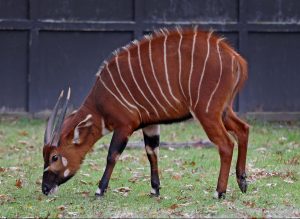 Frequently Asked Questions:
I use pesticides (organic or chemical) – will you be able to feed out my tree?
We cannot take any trees or plants that have been treated with a pesticide, even an organic one, as it may be harmful to the animals.
I do not know what kind of tree I have, can you identify the tree?
Possibly. Send a photo to our e-mail address and we can try and ID the tree. Unfortunately we do not have the time or staffing to make house calls to identify trees in person.
Do I need to trim my tree a certain way? What parts of the tree are you interested in?
We are looking for whole branches. Usually, the way we feed trees out to the animals is by hanging branches up for the animals to consume – small chopped pieces are difficult for us to manage. If we are coming to your property to pick up limbs, we will bring tools to cut branches smaller if needed, so feel free to leave those limbs big!
How much do I need to be trimming? A whole tree? One branch?
Sometimes even three or four big branches from a tree will make a great meal. If you are delivering to us, we're happy to take even a few decent sized branches. When in doubt, send us an e-mail.
Can you do the trimming for me?
Unfortunately, we cannot. We are not licensed tree trimmers and can only pick up branches that have already been cut and are on the ground.
I cut my tree last week and then saw you were looking for branches…it's available but dry. Do you want it?
We are looking for fresh branches with the leaves still on. In the winter we will take branches without leaves.
Will you take the whole tree/everything I trim?
We only use/feed out branches.
We do not have a use for tree trunks or large sections of limb especially if they are hollow. If you are cutting a whole tree we are quite happy to pick up as many branches with leaves as we can load (if you're close by we can make a few trips), but we are not able to clean up and dispose of a whole tree and may not always be able to take everything you trim.
I live in Detroit/Grand Rapids/Saginaw, I would love to help, and have a large tree to be trimmed. Will you pick it up?
We can only pick-up browse donations from within 30 minutes of the zoo. But if it is possible for you to deliver, we certainly welcome your donation!
I'm here at your gate with a tree – come get it!
We ask that you please always contact us by email or phone call and obtain confirmation before bringing us a delivery. We appreciate your donation and want to make sure we have staff available to unload it.
I contacted you about donating my tree and was told you could not use it, why?
There are several possible reasons we may not be able to accept a browse donation.
Your tree may have been turned down because it is not on our list of safe plants to feed to the animals (Browse list)– usually because it is toxic to our animals.
If your tree has been treated with pesticide or herbicide we cannot use it. If you are not sure if it has been sprayed, we will err on the side of caution and not use it.
On a rare occasion, we may get so many trees donated that we simply cannot accommodate them all and have to turn donations away.
You may be located farther than 30 minutes from the zoo and we are unable to provide the staff time to drive farther.
Thank you for thinking of us and taking your time to try and help, we are sorry we could not accept your donation.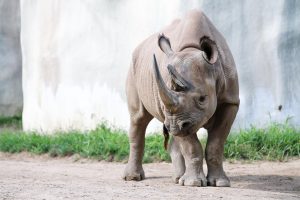 If I deliver, do I get to see the animals eat my donation right then?
Sadly no. It takes us some time to process trees that are donated. They have to be sorted, cleaned and then delivered to the appropriate section of the zoo depending on which species of animals will be eating them.
This means you will not be able to see your donation used right then or help us feed it out, but you can be certain that the only ones who appreciate your delivery more than our zookeepers are our very happy and well-fed animals – all thanks to you!