Education is one of our main focuses here at Potter Park Zoo. Check out our award winning education programs that will inspire conservation of animals and the natural world for both students and adults.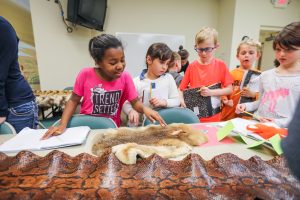 BIG Zoo Lesson
Students, parents, and teachers use Potter Park Zoo as their classroom for a week-long, in-depth study of biological sciences. They talk with wildlife experts, observe animal behaviors, and research animals from all over the world. The BIG Zoo Lesson is an interdisciplinary, problem-based approach to teaching and learning. Today's children are the future stewards of zoos and the greater world. The BIG Zoo Lesson offers them the opportunity to learn about animals, careers, and their role in conserving the world's natural treasures.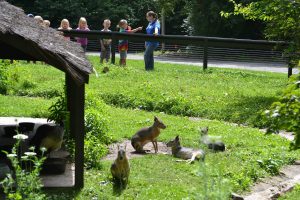 2 @ the Zoo
If you've been looking for a way to engage in place-based learning with your students, look no further! 2 @ the Zoo is a unique way for classroom teachers and other educators to have an immersive, two day experience for their students using the zoo as their classroom.
1-Day Extended Learning
Our extended learning classes are perfect for teachers, other educators, and scout troops who want to spend a fun-filled day learning about wildlife. Structured to meet the needs of your school's curriculum, we offer teacher-designed programs on adaptations, food chains, and animal classifications.