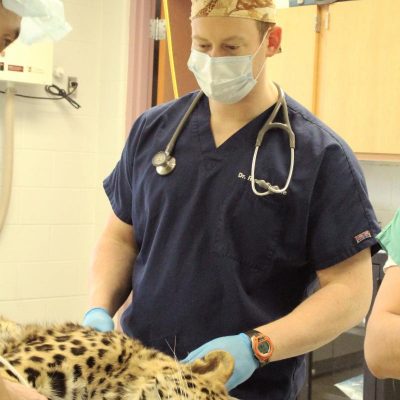 Director of Animal Health
Dr. Ronan Eustace
Dr.
Ronan
 Eustace came to Potter Park Zoo from the Potawatomi Zoo, where he was the Staff Veterinarian for three and a half years. Prior to his time in South Bend, 
Dr.
Ronan
 worked at the Akron Zoo, completing an 18 month post-doctoral fellowship. Prior to working as a zoo veterinarian, 
Dr.
Ronan
 worked at practices ranging from large multi-doctor specialty practices to small rural mixed clinics for four years. He is a Canadian with a love of hockey and an inordinate fondness for Tim Horton's coffee.
From the west coast of Canada, he received his Doctorate of Veterinary Medicine from the University of Saskatchewan, Western College of Veterinary Medicine. 
Dr.
Ronan
 is married to 
Dr.
 Kim Thompson, Staff Veterinarian at the Binder Park Zoo in Battle Creek, Mich.
Dr.
Ronan
 is currently working towards obtaining board certification with the American College of Zoological Medicine. 
Dr.
Ronan
 is a published contributing author of four scientific manuscripts. He has a special fondness for amphibian medicine.
Favorite Animal
Moose
Favorite Thing About Potter Park Zoo
The staff is extremely dedicated and passionate about their work at the zoo.