Potter Park Zoo is open!
Masks are required at all times (may be removed when eating and drinking).
Indoor areas are closed (including the Feline & Primate House and Bird & Reptile House)
We are operating at a reduced capacity and limiting how many guests can visit the zoo at one time.
Timed entry tickets (purchased online before your visit) will be used to space our guest's arrival times. This will allow ample room for household groups to social distance while exploring the zoo at their own pace. Even when guests are social distanced, masks are required.
---
Click button to purchase tickets online!
*Members & Ingham County Residents must login prior to making selections to receive discounted rates. 
Tickets are available 14 days in advance. 
*Please note, online ticket sales are not available for reciprocal zoo members. We will accept reciprocal zoo members at the gate only, where we ask you to bring your membership card to get your discount. 
---
Should I visit the zoo?
.
Do not visit the zoo if: 
–  You have been asked to self-isolate or self-quarantine by the health department or doctor
–  You have been in close contact with someone that has a confirmed case of COVID-19 in the past 14 days
Please stay home if you have any of these symptoms or feel sick: 
–  New or worsening cough
–  Shortness of breath or chest tightness
–  Fever (temperature over 100.4)
Thank you for helping to keep the zoo a safe place for everyone! 
If you feel sick before your scheduled reservation, we ask that you not visit the zoo. If you begin feeling sick while at the zoo, reach out to our  staff so that someone from the on-site team may assist you​
The changes we have put in place are meant to create the safest possible environment for everyone at the zoo including our visitors, staff, volunteers and the animals in our care. We ask that everyone follow social distancing protocols and other posted guidelines throughout the zoo, as well as respiratory etiquette and hand hygiene.
---
What to Know Before Your Zoo Adventure
---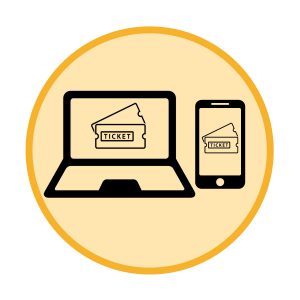 All visitors (even those under two) are encouraged to purchase a timed-entry ticket online before arriving at the zoo. This is to help limit the number of people in the zoo and to promote social distancing. Members will still be free, but need to reserve an arrival time online before your arrival.
Guests can purchase their tickets at the gate without reserving an arrival time, but we cannot guarantee admittance at the time of your arrival due to capacity limits. You may have to wait for the next available time window if the zoo is at maximum capacity when you arrive. Once you're here, you are welcome to stay as long as you would like.
Click here to purchase tickets online!
---
Masks Required at All Times
Every guest who enters the zoo is expected to support the shared responsibility of keeping themselves, other guests, zoo staff, and animals safe by social distancing and wearing a mask.
Masks are required at all times (may be removed when eating and drinking).
Disposable masks will be available for purchase at the admission gates for 50 cents each.

Wash Hands and Use Hand Sanitizer Frequently
We have placed many new hand sanitizer stations throughout the zoo.
Social Distance
Signs and paw prints have been placed throughout the zoo to guide guests in proper social distance. Please be patient at viewing areas and if all marked spaces are occupied, wait until a household exits the viewing area to take their place.

Avoid Touching Surfaces Throughout the Zoo
Zoo staff will be regularly sanitizing touch points throughout the zoo, but we recommend limiting or avoiding contact with any surface.
Indoor Areas Closed
Indoor viewing areas such as the Bird and Reptile House and Feline Primate House will be closed. The quiet room and nursing room located in the Discovery Center will be available by request. Please call 517-230-3790 to request use.
Restrooms will be open and sanitized regularly.

No Outside Food and Drink 
Please do not bring outside food and drink into the zoo. Check our Attract action page for up to date Gift shop and Restaurant hours. We're reducing gathering and touch points throughout the zoo, which includes picnic areas.
Thank you for helping us keep the zoo a safe place for all.
---
Have more questions? Visit our Frequently Asked Questions page for more information!