The Jaali "Adopt an Animal" Package is Here!
Level four adopters will receive an exclusive rhino artwork print (painted by Doppsee), special Jaali rhino plush, and the official Jaali poster!
By participating in our "Adopt an Animal" program, you are making a special donation that supports the zoo and our mission to inspire conservation of animals and the natural world.
Click here to "Adopt" Jaali the black rhino calf today! 
Jaali's Birth
For the first time in the 100 year history of Potter Park Zoo, a black rhino calf has been born at the zoo. At 5:40 a.m. Dec. 24, 2019 Doppsee, the zoo's 12-year old female black rhino gave birth to her very first calf, a male. The animal care and veterinary staff at the zoo report that the calf stood up about an hour and a half after birth and appears to be nursing well.
"As this is Doppsee's first pregnancy, the animal care and veterinary staff will continue to monitor Doppsee and her calf closely in the next few weeks. But so far, the rhino calf appears healthy and we have observed frequent nursing shortly after the birth, which is encouraging," said Potter Park Zoo veterinarian, Dr. Ronan Eustace.
Mother and calf are bonding behind the scenes in the rhino barn at Potter Park Zoo and will not be visible to the public until weather allows in the spring of 2020. The zoo will be posting regular updates including pictures and video of Doppsee and the calf on their Facebook and Instagram pages, as well as the Potter Park Zoo blog.
Black rhinos are critically endangered and are being pushed to the brink of extinction by illegal poaching and loss of habitat. Current estimates show that only about 5,000 individual black rhinos are alive in the wild today.
There are just over 50 black rhinos in the care of AZA accredited zoos which are managed by the Species Survival Plan (SSP). The SSP maintains a genetically healthy population of black rhinos in zoos. The father, Phineus, came to Potter Park Zoo in 2017 from Texas specifically to breed with Doppsee. On average less than two black rhino calves are born in human care each year, making every calf born vital to this endangered population.
"This is a monumental moment for Potter Park Zoo that has taken our staff years of planning and hard work. We are dedicated to conserving rhinos and couldn't be more excited about this successful black rhino birth," said Cynthia Wagner, Director of Potter Park Zoo.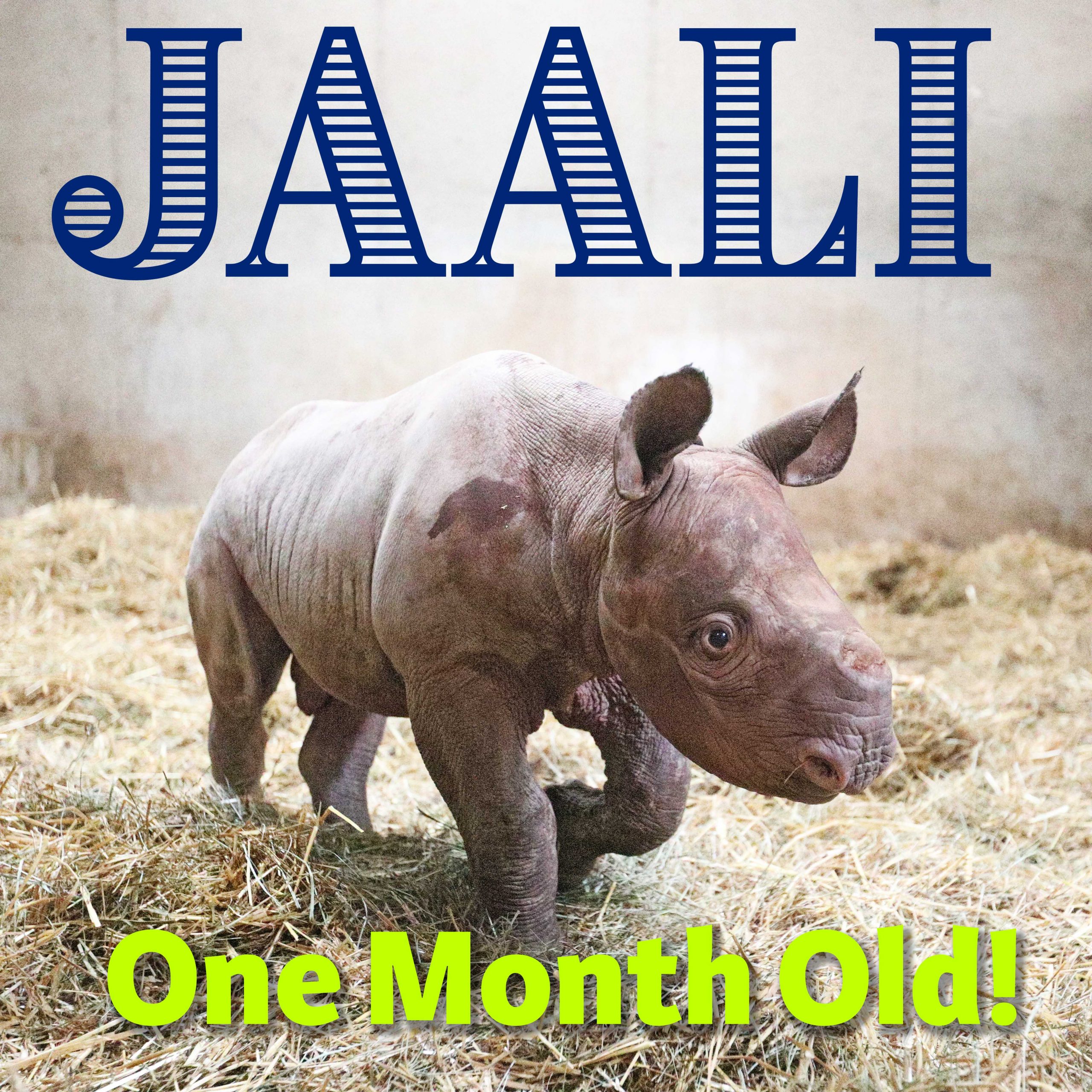 Jaali Turns One Month Old
Jaali has hit a lot of big milestones during his first month of life. Our zookeepers have done an incredible job of monitoring the videos captured by our closed-circuit camera to identify the exact times of his major milestones. This sassy little guy never ceases to amaze us, and we can't wait to continue sharing his story with our fans!
Jaali and mother Doppsee are behind the scenes in the warm and cozy rhino barn and will not be visible to the public until in the spring of 2020. Follow us on Facebook, Instagram, and Twitter for regular Jaali updates!
Born: 5:40 a.m. 12-24-2019
Standing: 7:10 a.m. 12-24-2019
Nursing: 8:44 a.m. 12-24-2019
Sparring: 12-25-2019
First poop: 12-27-2019
Play behavior: 12-31-2019​
Lost umbilical cord: 1-2-2020
Testing solids but not eating: 1-3-2020
Climbing Mom: 1-3-2020
Zoomies: 1-3-2020
Playing with sticks: 1-4-2020
Jaali is named! 1-9-2020
First Mud Bath –1-19-2020
First enrichment 1-22-2020
Visit our Facebook page for tons of Jaali videos!
https://www.facebook.com/potterparkzoo/videos/